IAS toppers
Coaching concerns
Ruchika M. Khanna
Corporate jobs may offer the best of salaries and perks… but the vast majority of young brains still crave to join the prestigious Indian Civil Services. The fact that a big share of this year's top 10 posts in the civil services exams have been bagged by professionals from various streams shows that this is still the dream job for many.

CAREERCATURE
by Sandeep Joshi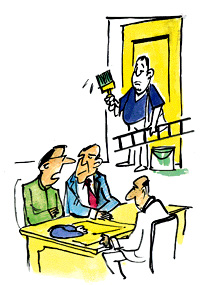 Who released that ad asking for a Paintbrush expert?
WORK ability
Be on best term with the BOSS
Roopa Hegde
A manager friend of mine, who recently changed her company, had an interesting story to share. On her very first day in the new job, she faced an unexpected response. One of the employees seemed very angry with her and was even reluctant to get introduced to her.

"New initiative will draw youth to work in Scotland"
Shveta Pathak
Dr Alstair Smith retired as a lecturer in Geography from the 500-year-old University of Aberdeen, Scotland, where he was also the Director of the University Development Trust and Director of International Programmes. He was recently in India to talk about the opportunities for youth in Scotland. Excepts from an interview:

World watch
Indian teachers in UAE to lose jobs
Almost 800 expatriate teachers, most of them Indians, face the axe as the Education Ministry plans to replace them with United Arab Emirates' nationals, a media report from Abu Dhabi said on Monday. The ministry is initially planning to recruit 500 UAE nationals, 95 per cent of them women, to replace expatriates.

STEP UP your career
Anureet Sibia Dhillon
In today's dynamic work environment, there are a large number of choices and opportunities available to an individual for career advancement. Job progressions are faster and the youth is choosing boundary-less careers rather than lifetime employment in the same concern.