M A I N N E W S
'Jo Bole So Nihal' screening stopped in Amritsar
SGPC panel to submit report today
Tribune News Service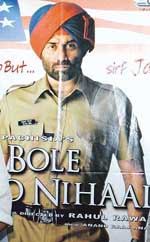 Amritsar, May 18
Even as the screening of the controversial Hindi film "Jo Bole So Nihal" has been stopped at the local cinema, a special show was arranged for members of the SGPC panel by owners of the theatre so that they could finalise their report scheduled to be submitted at the meeting at Chandigarh tomorrow.
According to sources, the 21-member SGPC panel, including six special invitees, would ask the producer, director and distributor of the film to stop the screening of the film till the title and objectionable scenes and songs were deleted.
The director and distributor of the film has already expressed his desired to accept all recommendations and suggestions of the SGPC.
The stopping of screening of the film in Amritsar is enough indication that the makers of the film will try to avoid a confrontation in view of the sentiments of the Sikhs. A Sikh conclave, held at Akal Takht here recently, had served an ultimatum on the film-makers to stop the screening of the film by May 19. Sikh organisations had threatened to stall the screening of the film at Amritsar, Ludhiana and Jalandhar.
An SGPC press note said the SGPC could take a decision on the film at a meeting to be presided over by SGPC chief Bibi Jagir Kaur at Chandigarh tomorrow. All controversial aspects would be discussed threadbare, including the title of the film and songs.
The committee comprises Mr Manjit Singh Calcutta, Mr Hardip Singh Mohali, Mr Jaswinder Singh Advocate (all SGPC members), Principal Ram Singh, Dr D.S. Cheema, Baba Balbir Singh, Baba Nihal Singh, Dr Darshan Singh, Dr Jasbir Singh Sabar, Bhai Jasbir Singh Khannewale, Dr Gurbachan Singh Bachan, Mahant Tirath Singh, Dr Gurnam Kaur and special invitees Baba Daya Singh, Bhag Singh, Jang Bahadur Singh, Ram Singh and Niranjan Singh Dhesi.
Meanwhile, the Shiromani Akali Dal (Amritsar), the Dal Khalsa and the Shiromani Khalsa Panchayat, in a joint communication warned members of the panel constituted by the Dharam Parchar Committee, not to "betray" the Panth as done by Jathedar Joginder Singh Vedanti.
In their letter, Prof Jagmohan Singh, Mr Kanwar Pal Singh and Mr Rajinder Singh, respectively, warned the committee members against any attempt to sidetrack the issue.