The great clay challenge
The French Open is the ultimate test of stamina and nerves in tennis, writes Vikramdeep Johal
Exhausting, demanding, unforgiving — the red clay court at Roland Garros is no bed of roses for a tennis player. Top names often bite the dust, cracking under the tough conditions. Rallies as well as matches take ages to end, sapping the energy of not only the loser but also the winner.


Spain's Rafael Nadal (left) is the firm favourite in the men's category at Roland Garros, while Justine Henin-Hardenne of Belgium is the top woman contender. — Photos by Reuters

Forgotten champion
Ravi Dhaliwal
There was a time when he was known as one of Asia's leading shot putters and discus throwers. Today, he is a nobody. Lying on a cot in a nondescript village named Bhagta Bhai Ka, 40 km from Bathinda, Parduman Singh spews venom at the government for its insensitivity towards him ever since he quit competitive athletics about four decades ago.
Hockey Hungama
Big-time hockey is here again. The 14th Azlan Shah tournament begins in Kuala Lumpur on May 26, featuring seven of the world's top teams.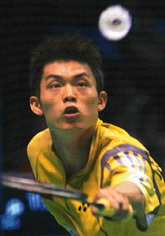 IN THE NEWS
Numero uno
Lin Dan showed why he was the world's number one player in men's badminton as he battled to a dramatic 17-15,
15-9 singles win over Indonesian Olympic champion Taufik Hidayat in the final of the Sudirman Cup last week, powering China to a 3-0 victory. The highly anticipated showdown provided some of the best badminton of the tournament and a big test for Lin who had to come back from behind in both games.


China's Lin Dan was at his best in the Sudirman Cup badminton tournament