ART AND SOUL
Pope and the artists
B.N. Goswamy explores the old connection between art and the Catholic church
They stole my voice; it's the cars that speak.
My soul is open: I want to know with whom I am fighting, for whom I live...
No answers...
Just be back every day at six in the morning...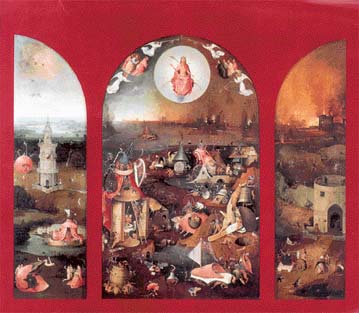 The Last Judgement by Hieronymous Bosch, ca. 1480
Few would be able to guess that this little poem, a moving meditation seemingly penned by an industrial worker in an auto-plant, is in fact by that gentle and frail man whose images filled our screens till a few weeks ago: Pope John Paul II. Long before he came to don the mantle of St. Peter, stepping into the 'Shoes of the Fisherman' as they say, Karol Wojtyla – for this was the Pope's real name – was a poet and a theatre person of distinction. He had started acting at the age of eight. By high school he was winning a variety of male leads and was immersed in a serious repertoire that ranged from Greek tragedies and Shakespeare to Polish literary classics. During this period he also made a new translation from the Greek of Sophocles' Oedipus.
There was great fire in this man's belly, for, even during the Occupation, he kept writing poetry, using various pseudonyms, and, at great personal risk, participating in underground theatrical events. Till as late as two years ago, he was writing poetry – The Roman Triptych, one of his finest works, dates to 2003 – and one knows that one of his plays, The Jeweller's Shop – was turned long ago by Hollywood into a film featuring Burt Lancaster. Clearly, even as far as the arts are concerned, this was no ordinary man.
I was very interested therefore when I came upon some excerpts from an open Letter that Pope John Paul II wrote some time ago to Artists. There is much in them that is absorbing, the content serious and persuasive, the tone now lofty, now very down to earth.
One knows that there is a long, very long, history, not only to the connection between art and religion in all cultures, but also to the connection between art and the Catholic Church, especially the Papacy. Great names fill several pages of that history – Giotto, Bramante, Michelangelo, Bernini, among them – and great architectural monuments were built for the Popes.
One also knows that there are fabulous artistic riches in the Vatican, but that, at the same time, the relationship between art and papacy has been uneven, sometimes even turbulent. What Pope John Paul says to the artists in this letter – the content, the wording – is therefore of considerable significance.
There is nothing better that I can do in this context than citing the words of the Pope himself, for even when they appear to be noble generalisation on art, and the role of artists, they take cognisance of the changed realities of the modern world.
"Within the vast cultural panorama of each nation", the Pope writes, for instance, "artists have their unique place. Obedient to their inspiration in creating works both worthwhile and beautiful, they not only enrich the cultural heritage of each nation and of all humanity, but they also render an exceptional service in favour of the common good."
Or again: "… the hard work they must endure and the responsibility they must accept. Artists who are conscious of all this know too that they must labour without allowing themselves to be driven by the search for empty glory or the craving for cheap popularity, and still less by the calculation of some possible profit for themselves."
But then a different note enters the Letter. "It is true nevertheless that, in the modern era, alongside Christian humanism …another kind of humanism, marked by the absence of God and often by opposition to God, has gradually asserted itself."
All too aware of the distance that has crept between art and religion in our times, the Pope presses on to say that it must be recognized all the same that "art remains a kind of bridge to religious experience", for by its very nature it is "a kind of appeal to the mystery. Even when they explore the darkest depths of the soul or the most unsettling aspects of evil, artists give voice in a way to the universal desire for redemption."
So on, the letter proceeds, dwelling on the need of the Church for art, but also asking the question whether art needs the Church. The last question, he says, may seem like a provocation. "Yet, rightly understood, it is both legitimate and profound. Artists are constantly in search of the hidden meaning of things, and their torment is to succeed in expressing the world of the ineffable." They might do well, therefore, he says persuasively, at least to remain grounded in faith, if not in religion. For only then 'the mystery of man' will reveal itself.
Many would question this, and other utterances. But there is the ring of honesty in them. And they lead one to think about these things.