An engaging tale
Sridhar Chari
Mahashwetha
by Sudha Murty. EastWest Books (Madras) Pvt. Ltd.
Pages: 171. Rs 150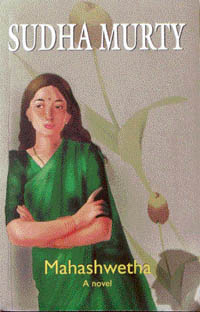 "I never knew it would be so dangerous to be beautiful and poor," says the heroine of Sudha Murty's novel Mahashwetha, summing up her plight as a good-looking but poor woman, who after being wooed and wedded by a handsome doctor, gets turned out of the house, not only because of her poverty, but because she is unfortunate enough to develop leucoderma.
Murty's novel, her own translation of the original written by her in Kannada, is engaging enough, and the lyrical quality of the language faithfully reproduces the rhythms and nuances of her native tongue. It never quite succeeds though in rooting her characters and her story in a definite cultural and societal context, and an uncomfortable disconnect pervades the narrative.
One reason for that is the elements of her story are rather clichéd. A very handsome doctor, Anand, who never looks at women till he falls for Anupama. Anupama is beautiful, has a beautiful voice, and is a good stage actress to boot. Anand is nice guy, but is not very mature, and does not stand up to his mother. Mother is the standard mother-in-law, and there is the mandatory hostile sister-in-law. Anupama rehabilitates herself in her career, and discovers her life's meaning in her work with students. And so on.
The other reason is at the back of your mind: you are left wondering whether leucoderma is really the most important issue confronting Indian women in their efforts to come into their own in a still male-dominated Indian society. At times in the novel, the "cosmetic disease" seems to take on a life of its own, rather than being used as an element to highlight the nature of the tensions that emerge when a young woman enters a conventional Indian home.
There is even a fairy tale post-script, where Murty relates how she was invited to a wedding, where the young groom, after rejecting his bride-to-be because she develops leucoderma, reads her novel in a library "ten times" and subsequently decides that did not want to be like the man in (Murty's) novel."
For all that, Murty's effort needs to be counted amongst those worth a look in evaluating the direction in which Indian writing, in English or otherwise, is headed. Finding a true voice amidst a general cacophony is difficult, and any attempt at doing that is laudable.