Garden Life
Path perfect
Garden paths need planning with care as the material, texture and style of paving can alter the impact, writes Kiran Narain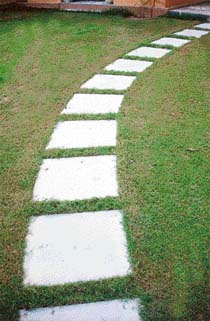 Gravel pathways are liked for the easy maintenance
Pathways and pavements are an important landscape feature that define the garden circulation, hierarchy of space, gradual progression and also help integrate the entire landscape. Being permanent, paths need planning with care and forethought.
They should not only give ready access to a garden but also befit its design and be aesthetically pleasing. Keeping the plot size in mind, the next basic step is to draw a rough plan with the garden circulation, layout, functional zones and focal points on it.
The basic features to be kept in mind are the proportions of the plot, scale, functional usage and the fundamental landscaping style. It should essentially create a visual illusion to cover up the limitations of the plot.
A long and narrow garden may look like a tunnel if arranged with a straight central pathway. To avoid this, curving, irregular shapes with winding pathway and visual breaks along the length can appear to broaden the site. The material, texture and style of paving can also change the impact of a given landscape and thus it is necessary to selectively choose the paving pattern and material accordingly.
Except in very small gardens, the pathway should not be less than two feet wide, four feet being a good average width and nine feet and above would be suitable for driveways. In the tiny garden, stepping-stones sunk flush with the grass level will be more pleasing to the eye. Simple directness and gentle curves are the best.
There are many kinds of surfacing but gravel pathways are the first choice for budget-conscious gardeners and are liked for the natural look and easy maintenance. The site for the proposed path should be marked out with pegs and the soil removed to a depth of nine to 18 inches for driveways and six to nine inches for other pathways.
If the site requires draining, a pipe down the centre in case of narrow paths and drains at the either side for a driveway or wider paths may be necessary.
If the site does not get water-logged easily, the foundation of the pathway should be sufficient to carry away the water as a well-constructed one would be slightly raised in the centre. Any perennial or deep-rooted weeds should be removed to avoid subsequent problems.
Fill in about a third or half of the excavated area with brickbats, stones or hard rubbish. The top layer should be filled in with gravel and the path well rolled over. Now, it would be ready for the top most layer of gravel, which should be rolled over once again.
Brick on edge paving is also an economical and visually appealing option. The brick can be laid in a variety of ways like herring-bone and formal but their weathering quality should be ascertained before use as this is an important consideration in long-term planning. A raised brick planter on either side may complement the scene.
Those who prefer stone paving can have a wide choice as stone is readily available. Dholpur, Kota, sandstone, slate, rough quartzite and even torched granite paving, over a hardcore foundation, can add colour to the garden. These can be treated for outside use by overcoming their natural porosity and given an increased resistance to natural elements. There are also machine-made external tiling options available.
Some good quality synthetic tiles, in the market, today, can resist adversities of weather and can be set in basket-weave, crazy, radial, herring-bone or random patterns to suit the owner's taste and requirements.
Grass paths may be made to connect different parts of the garden, but where traffic is heavy, it is advisable to sink stone flags or concrete slabs in stepping stone fashion, with centres 3 ft. apart, in the grass at the surface level to take the weight of traffic and avoid bald patches in the grass.