Married and apart
Anything but Love brings out in a subtle manner the love-hate relationship that defines a marriage, writes Aditi Tandon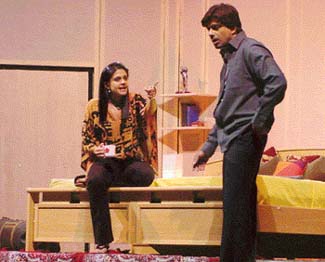 Mandira Bedi and Samir Soni in a scene from Anything but Love. The two have played their roles with elan.
— Photos by Parvesh Chauhan
For his age, Vikranth Pawar is an exceptionally gifted director. Ten long years in the art of stagecraft have taught him several tricks of the trade. Surprisingly, most of his tricks have more to do with intuition than with intellect.
The element of surprise that thus emerges is palpable in all of Pawar's works, as it was in Anything but Love which opened to a full house in Chandigarh's Tagore Theatre last week. Brought to the city by Creativity Action Service (CAS), an initiative of the Chitkara Group and The Tribune, the play dealt with alienated affections between two people bound by marriage.
It is a brilliant departure from the norm where love, matrimony and divorce are perceived and defined in a certain prescribed fashion. Adapted from the American play Double Act and produced by Raell Padamsee, Anything but Love takes you beyond ritualistic perceptions and helps you respect relationships not for what they are called but for what they are.
This is Pawar's third independent production after Timings and Laughing Wild. Earlier he assisted Vijaya Mehta and Alok Ulfat in Hindi theatre. By his admission, however, nothing excites him better than Anything but Love.
He avers, "Divorce is something of a universal conflict, and it is almost always viewed with skepticism and scorn. I have been hugely bothered about the whole issue of people parting ways on bitter notes.


Vikranth Pawar
Before I attempted to analyse the complex issue of marital love and divorce, I spoke to several people and found that most were full of rancour for the ex-partner. I wanted to break the stereotype by making a point. I wanted to talk about the spaces in between, and the other, unexplored realms…"
The director's point is well made in the play, and it is: Why treat marriage in a blessed way and divorce in a stigmatic way when both are two sides of the same coin of life? The play trails the lives of ex-spouses who are thrown into intimate situations by fate. From there on, the urge to bond and the raging passion ensures that the two are back again in matrimony.
Using the elements of humour, music and topicality, the director enriches the production beyond description. The play is laced with wit that further blends with a stilling poignancy to take its audience on a journey they are unlikely to forget. The actors also do their bit in keeping the interests alive.
While the svelte, cricket-loving Mandira Bedi proves beyond doubt that she is worth much more than Extraaa Innings, Samir Soni in the role of a failed spouse but a promising friend is exceptionally imposing. He plays the role with dignity and makes a mark for himself.
Interestingly, Pawar waited for a while before he could get Mandira and Samir together on stage. He admitted that "They are the busiest actors in the so-called.
English theatre in Mumbai. Getting them together on stage was a big challenge. Equally tough was to strike a balance between their opinions. Both are thinking individuals and both react strongly to situations in the play. Had it not been for them, the play would not have shaped the way it did. They are brilliant performers."
Pawar's words were proven right by the strong portrayals that came from Mandira and Samir. Together they made a dream couple no one wished ever split. But the rift was inevitable just as love was. The only difference this time was that the separation came with a sense of maturity, as two people hopelessly in love with each other realise the altered realities of their lives. They discover that affection is not a function of situations. Marriage or no marriage, love can last forever.
With a cast as promising as Mandira Bedi and Samir Soni, the production had sounded more than just tempting. But its punch lay in the fact that it justified every temptation it generated in the first place.
Not even once did the script stretch beyond the power of one's taking. It remained laced with interesting elements of love and acrimony, marriage and divorce.
With relationships and their complexities filling the space of performance, there was hardly any room for boredom in the two-hour-long
production which wove patterns of intimacy and then tore them apart. For the wrap up, the director had a world of surprises to offer. He succeeded in placing love where it belongs – before marriage and divorce, and everything else that man made. That's what made the difference.