India at cannes
Starry show, dim picture
Even as a handful of Bollywood stars sparkle in Cannes, Indian films are threatened with a long fade-out from the world's premier festival. Saibal Chatterjee reports from Cannes.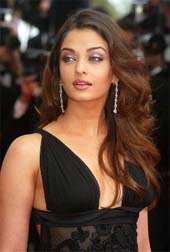 Aishwarya Rai declared the film festival open
India sent more people than films to the Cannes Film Festival. But that wasn't surprising at all. The country, unarguably, churns out more bad films than any other nation in the world but, thanks to its movie-crazy population, it boasts of a few of the most luminous movie stars that showbiz has ever seen.
The superstars have only got bigger and the practice of frenzied idol worship has gathered intensity over the past decade but, sadly, the general quality of India's annual crop of films has deteriorated sharply. Understandably, while the film personalities routinely descend on the Croisette every year for their five days in the sun, Indian films remain conspicuous by their absence from the official selection of the annual Cannes event.
It is beginning to hurt. Bollywood has turned into a ghetto, which exports a handful of 'exotic' movie stars to the Riviera for parades up the red carpet. But the spectacle is losing its zing. It is time to move beyond the stars and what they wear.
Thank God for Satyajit Ray. His first film, Pather Panchali (Song of the Little Road), released half a century ago, turned out to be the only 'official' Indian representation at the 58th Cannes Film Festival. It played in the Cannes Classics section, which was introduced only last year to highlight and celebrate the world's cinema heritage with the screening of restored prints of landmark films.
In 2004, too, India had no film in the official selection in Cannes, but Mehboob Khan's stirring Mother India was the lone saving grace, making it to the inaugural Cannes Classics.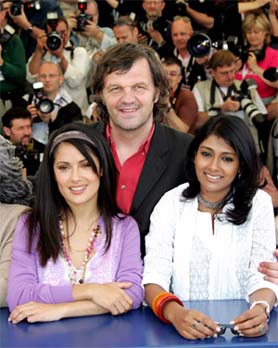 Nandita Das during a photo call at the 58th Cannes Film Festival
As Hollywood's best-known Indian film producer Ashok Amritraj says: "The mistake that India makes is that it seeks to promote conventional Bollywood fare. That can't take the country very far on the global scene. These films just don't have any appeal for non-Indian moviegoers."
But that is exactly what the situation has been for over a decade now. And therefore the Indian presence in Cannes this year is a bit like Bollywood itself – more hype than substance. More noise than quality.
Indeed, Nandita Das was in the nine-member jury (but then, she is hardly a Bollywood creature) and Aishwarya Rai earned the singular honour of being asked to declare the 58th edition of the world's most happening film festival open. A whole lot of other film industry folk from India, notably Subhash Ghai, Bobby Bedi and Praveen Nischol of Entertainment One, set up camp on the French Riviera in the hope of swinging global deals for their films.
But many of these people are, at the back of their minds, aware of the limitations that they work within. Says showman Subhash Ghai: "Our films are meant for our audiences. So they have numerous sub-plots, songs and crowd-pleasing ingredients. Western audiences do not have much patience for these conventions."
Ghai has reduced the box office dud, Kisna, from its 165-minute running length to just 95 minutes and filled the soundtrack with English-language dialogues. The film, now titled Beyond Love, was screened as many as four times in the Cannes Films Market. At the time of going to press, however, there was no final word on whether Ghai's Mukta Arts had been able to close a few meaningful global deals.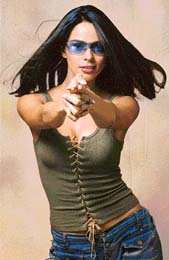 Mallika Sherawat is Jackie Chan's co-star in The Myth
Two other big-budget Bollywood productions were in the Cannes Film Market in quest of international buyers – Ketan Mehta's period drama, The Rising, and Akbar Khan's historical, Taj Mahal. The Rising is, of course, an essentially international production with British actor Toby Stephens matching skills on the screen with Indian star Aamir Khan. But will it provide Indian cinema the breakthrough that producer Bobby Bedi is hoping for?
Akbar Khan is confident that Taj Mahal will do just that. "My film is true to the spirit of a Bollywood film but, from the very outset, it was scripted with an international audience in mind. The drama in Taj Mahal isn't half as melodramatic as you would expect it to be in a Hindi film," he says. Taj Mahal has been jointly scripted by South African writer Fatima Meer and Akbar Khan.
But it wasn't merely big budget films that India was trying to hawk in Cannes. Sunil Doshi of Handmade Films was in Cannes to explore marketing avenues for a small, offbeat film helmed by famed cinematographer-director Santosh Sivan. Titled Navarasa, it is set in a remote Tamil Nadu village and deals with a story inspired by a legend from the Mahabharata. A stark, realistic drama, it features a real transvestite in a pivotal role.
Sahara Entertainment had a docu-feature on Mother Teresa on its slate. Titled The Beatification of Mother Teresa, the film has been made by Gautam Das. According to Sahara executives, it has been designed for global distribution.
But that apart, India had little to show for its efforts of the past year. Several conventional overseas film distributors, as always, set up stalls in the Cannes Film Market this year to flog dead horses – sex-and-sleaze flicks, run-of-the-mill Bollywood potboilers and a few half-baked NRI products.
When one realises that small nations like Sri Lanka, Cambodia and Burkina Faso are represented in the Cannes official selection by high-quality films, one gets a sense of where exactly the world's largest film industry really stands in terms of quality. What makes the scenario worse is that there is no sign yet of Bollywood stepping aside and letting genuine cinema from India get back on to the Cannes radar.
Until the mid-1990s films by the likes of Adoor Gopalakrishnan, Shaji N. Karun or Goutam Ghose, among other Indian directors, would make it to Cannes. But ever since the world discovered Bollywood kitsch, non-mainstream Indian cinema has completely lost its visibility.
In 2002, Sanjay Leela Bhansali's Devdas was accorded a rare special screening in Cannes. The director was in attendance with stars Shah Rukh Khan and Aishwarya Rai.
The voyage attracted much attention back home. But that was also the year when first-timer Manish Jha won an award in Cannes for A Very, Very Short Film. But the colour, spectacle and drama of Devdas overshadowed everything else that India could throw up that year.
Mallika Sherawat flew into Cannes with what can be described as a genuine international film, the Jackie Chan starrer, The Myth. The Myth, incidentally, was made on a budget substantially bigger than the total amount spent on all of Aishwarya Rai's supposedly 'global' films put together. That is a big trouble spot – Aishwarya is seen as India's biggest showbiz export but she is yet to graduate beyond the one-million-dollar production bracket.
It is easy to see why Indian cinema is stuck in a rut. The big stars aren't all that big and the successful films aren't all that good. The gap has to close before hype can turn to reality.