Dilwale maange more
V Gangadhar on the unending appeal of Dilwale Dulhaniya Le Jaayenge, which has completed 500 weeks at Mumbaiís Maratha Mandir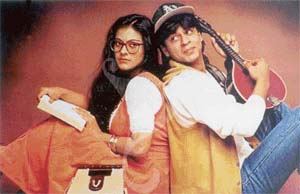 In October, the film will complete its 10th year
at the Maratha Mandir
Where does one rank a crass commercial film like Yash Chopraís Dilwale Dulhaniya Le Jaayenge (DDLJ) which had completed a record run of 500 weeks at Mumbaiís Maratha Mandir theatre? Alongside such all time greats like Citizen Kane, Gone with the Wind, Bridge on the River Kwai, or our own Sholay, which ran for five years at another Mumbai theatre with every ticket sold on current booking.
We do not have details of the long runs of foreign films, but in a film crazy nation like India such records are possible. Yet, even in India fewer and fewer jubilees are being celebrated, new releases appear and disappear without leaving any trace. Yet generations of people had watched DDLJ.
Obviously people change, lifestyles change but not the freshness of DLLJ which even today, as a morning show, raked in more money than the latest new arrivals at regular hours. Say Gautam and Gomti, a Mumbai couple who had seen the film 14 times, "The film is so fresh, and so heart warming that every time we watched it, we came out feeling happy and refreshed, It is the ideal family movie".
Being centrally located, near Mumbai Central station and the ST bus stand, visitors leaving the city when they had some time to spare, dropped in at the Maratha Mandir. So did the local labourers and porters at Bombay Central. "Where else can we spend three happy hours in air-conditioned comfort spending so little money (Rs 20, 18 and 16)".
Many in the audience had watched film 10, 15, 20 or 30 times, knew the dialogues and songs by heart. But DLLJ has more to offer than just cheap-rated entertainment and easy accessibility. It has a radiant star pair (Shah Rukh Khan and Kajol) who bring out the best in each other, memorable music, eye catching locales in the Europe and London and something else which touches the chords of the audiences, a love for the tradition and culture of India.
The first half is a pleasure ride appealing to the younger audiences as the lead pair, Raj amd Simran, romance all over Europe. The second half is more serious reminding audiences of their responsibilities and issues like respect to tradition and our elders.
Shah Rukh Khan easily identified himself with the character of Raj. The naughty, devil-may-care role appealed to him. It was a challenge to portray a hero who was not "first class first" in his studies, but celebrated along with his father, his failure in the examination. This was so unlike the traditional Indian film hero. Simranís role is more traditional, she loves her man and want him at all costs.
This is where the swades vs pardes issue comes up. Social scientists and younger audiences had attacked the filmís theme about tradition being the best.
Says activist Doris DíSilva "What do we have here? An autocratic father who is prepared to marry off his daughter to a young man, the son of his friend, she had never seen in her life, because of some kind of agreement with his friend. He would never accept the fact that the daughter had views on her own and sells off his flourishing business in London to return home so that the daughter can forget her lover and marry a man of his choice. This is suppression of the individual."
But then there appears to be some magic in the Indian soil. The irresponsible Raj would not elope with Simran but wait till the autocratic father changed his mind. This is so unlike his earlier image and the transformation of the father is brought about after much melodrama, which includes the beating up of Raj. The average cinemagoer still felt that Amrish Puri was continuing to play the villainís role.
Speaking about the success of DLLJ, producer Yash Chopra said his 23-year-old son, Aditya Chopra, who directed the film had discovered more about the culture and tradition of Punjab than anyone else. Yet the same Punjab whose land was supposed to be so holy, witnessed prolonged militancy and slowdown in industrial growth. Did the sacred soil of Punjab offer a better way of life as portrayed by the glitter and glamour of the DLLJ marriage scenes, the elaborate Karva Chauth celebrations and Simranís proposed marriage to a son of the soil who was prepared to have a wife at home and white mistresses in London.
Such an analysis misses the nature of our commercial cinema and reactions of the audiences. Well, the father finally changed his mind, didnít he? The film did have a happy ending, didnít it and why probe too deeply the motives of our Ďpass timeí commercial cinema?
Anything is possible in love and that was how someone like the irresponsible Raj Malhotra suddenly developed so much respect for Indian tradition and elders.
We watch films for entertainment and on this count, canít fault DDLJ. Come October, the film will complete its 10th year at the Maratha Mandir and set up new records. Yash Chopra plans to release the film in select multiplexes where the ticket rates were higher. Looks as though DDLJ will be around for a long, long time.