ULTAPULTA
Car sewa
Jaspal Bhatti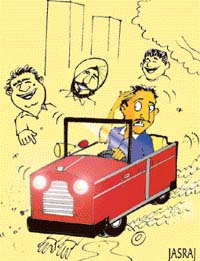 Stand on the balcony of your house and shout aloud, "I want to buy a new car". Almost instantly you will find yourself surrounded by a herd of representatives of various financial companies and banks. Buying a car is no big deal these days but selecting a make is a tedious job. Here are a few guidelines for the confused buyer:
Parking space — Parking space is the major decisive factor. The size of the car should be larger than the parking space available in front of your house. This will be a constant source of tension to your neighbours and sure enough they will be discussing your car most of the time.
Choice of colour — Select a colour your family hates the most. That way you will never repent over the scratches engraved by roadside Romeos.
Diesel or petrol — Don't get confused. Buy a diesel car, convert it into a petrol car and show off to the world that you have a mastery over automobiles information.
Price range — Buy a costly car and distribute sweets in front of the income-tax office to show that you are a respectable income-tax payer.
Size of the car — The size of the car should be inversely proportional to the size of your mother-in-law. If she is fat, she should find it hard to get inside the car.
The overall appearance of the car should be such that no one in your neighbourhood is jealous of your possession. In this way, no one will think of borrowing your car and you will live in peace.