PUNJAB

HARYANA

JAMMU & KASHMIR

HIMACHAL

REGIONAL BRIEFS

NATION

OPINIONS

MAILBAG

BUSINESS

SPORTS

WORLD
Monday, May 23, 2005, Chandigarh, India
Updated at 3:00 am (IST)


2 dead, 50 hurt in Delhi cinema blasts
New Delhi, May 22
Two persons were killed and 50 injured this evening after powerful blasts rocked two cinema halls showing 'Jo Bole So Nihal' in Central and West Delhi causing considerable panic in the Capital. The police said the injured were rushed to Ram Mahohar Lohia, Lady Harding and Deen Dayal Upadhayay hospitals for treatment and kept under observation.



CAST YOUR VOTE
Do great players make great coaches?


FORUM

EDUCATION

JOBS & CAREERS

HEALTH & FITNESS

SCIENCE & TECHNOLOGY

SPORTS

SOCIETY

TRIBUNE CLASSIFIEDS

BRIDES WANTED

GROOMS WANTED

OTHERS

HOW TO PLACE ADVTS

Alert sounded in Punjab
PM appeals for calm
SGPC condemns cinema blasts


A wailing relative of an injured person outside the Liberty cinema after a bomb blast in New Delhi on Sunday.
— PTI photo

Manmohan calls for taking bold decisions
New Delhi, May 22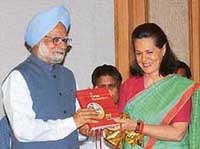 In the subdued celebrations of the Congress-led UPA government completing one year in office, Prime Minister Manmohan Singh today called for thinking "out of the box" in meeting the challenge of combining in the economics of growth with the economics of equity and social justice.
HARYANA: Registration fee for cars hiked


HIMACHAL: Look for private jobs, CM exhorts youth


CHANDIGARH:
Encroachments on prime land in UT villages


LUDHIANA: Congress has betrayed Dalits, says Badal


OPINIONS: Fixed tenure


BUSINESS: Hindustan Lever enters Himachal Pradesh


WORLD: Indian direct investment linked to Kashmir issue: Aziz


SPORTS: Batra enters IHF poll fray



QUOTE OF THE DAY
We cannot be satisfied with the second best.... We need the very best in meeting the future challenges and demand of the next decade.
— Manmohan Singh

THE TRIBUNE MAGAZINES
On Sundays

On Saturdays

UPA Chairperson Sonia Gandhi releases a report titled "A Caring Government" in New Delhi on Sunday along with Prime Minister Manmohan Singh. The report was released on the completion of one year of the UPA government. — PTI photo


Left assures support to UPA


No report card of ministers: PMO


Editorial: Fixed tenure


Nation page: PM releases govt's progress report

Sonia warns govt against complacency
Paswan, Congress consider UPA govt in Bihar
New Delhi, May 22
Amid the possibility of a split in the 29-member legislature party of the Lok Janshakti Party in Bihar, the Congress is understood to have advised LJP chief Ram Vilas Paswan to relent on the formation of an RJD-led government in the state.

In video (28k, 56k)

Kalam gets warm reception in Moscow


Moscow, May 22
President A.P.J. Abdul Kalam arrived here today on a three-day State visit during which he will interact with Russian President Vladimir Putin and other senior leaders, giving a further boost to bilateral relations.


In video (28k, 56k)

Indo-Bangla Foreign Secy talks in July
New Delhi, May 22
India and Bangladesh are expected to hold Foreign Secretary-level talks in the first week of July to discuss several issues, including the border row, which recently caused tension between the two countries.


Bhaats keep child marriage practice alive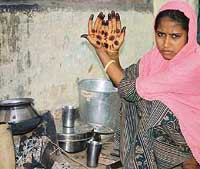 Dhand (Kaithal), May 22
Fourteen-year-old Rekha is getting married tomorrow. Her parents are busy making arrangements and the house has a palpable frenzy of activity about it.

Fourteen-year-old Rekha shows her mehandi at her house in Dhand village of Kaithal on Sunday. — Tribune photo by Neeraj Chopra


LJP on verge of split
May 22, 2005


PM favours tenure security for bureaucrats
May 21, 2005


Cabinet clears mid-term appraisal of 10th Plan
May 20, 2005


UPA, Left rift widens
May 19, 2005

More charges framed against Lalu Yadav
May 18, 2005

CWC pats Sonia, Manmohan
May 17, 2005

Punjab to promote religious tourism
May 16, 2005

Opposition is fine, but be responsible: Sonia
May 15, 2005
Phukan report rejected
May 14, 2005
Blast outside school leaves 2 dead, 52 hurt
May 13, 2005