PUNJABI ANTENNA
Still short on infotainment
Randeep Wadehra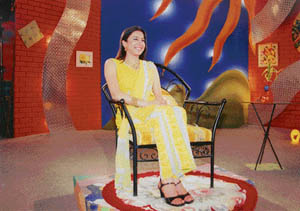 A scene from Phulkari
PHULKARI (Zee Punjabi), in a magazine format, targets Punjabi women of all ages. Anchored by Dimple Mehta, a.k.a Jaspreet, it has different special-interest sections. Tandrusti offers medical advice on health-related problems of women and kids, and occasionally forays into more complex issues like arthritis, heart problem, fertility and impotency. Sajna Sanwarna has a guest beautician giving tips on skin care, beauty aids, etc. My fave is Dadi Ji De Nuskhe, wherein veteran Punjabi actress Kamlesh Gill talks of home remedies for common ailments. Trendz deals with the latest in fashion, household items, interior decoration, etc.
Punjabi television has yet to mature into a genuine source of infotainment otherwise why would viewers be watching PTV. Almost all Punjabi channels offer little else besides unimaginative music-oriented shows. Whether the anchors are kids, comedians, singers or regular VJs, the contents remain essentially the same.
However, despite the cock-eyed scenario, some programmes do come up with intelligent, almost cerebral, fare. For example, Kujh Pal Tere Naam and Merian Gallan Mere Geet have notched up quite a few winners. Among telecasts based on current events, Khabarsaar and Parat Dar Parat are building up public opinion against evils in society. But this is not enough. Women and children need to be involved in the opinion-making process that affects their role and status in society. For example, there could be specialised programmes on issues that concern Punjabi women specifically like rape and violence, empowerment, education and employment.
Similarly, kids need to have a platform to voice their concern regarding problems they face at school, their physical and emotional safety both within and outside homes and their lack of access to affordable playing facilities.
These themes need to be tackled by the Punjabi television.
Eye-catcher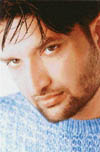 Harry Sharan, a postgraduate from Panjab University's Department of Indian Theatre, started his movie career as a clapper boy. He went on to bag the second lead in a Punjabi movie Jaali Passport. His other movies are the award-winning Shaheed Udham Singh, Shaeed-E-Azam, Zaildar, Sarpanch, Shikar and Nalayak
He has acted in a number of Hindi and Punjabi serials for DD, Alpha and Lashkara channels such as Bibi Basso, Ek Kahani, Unchahe, Panchani, Saanjh, Masterji, Navien Museebat Ayee, Sarhad; Chandigarh Campus; Aangan Tedha and Mission Fateh. His forthcoming serials are Punjab Kaur, Jazbaat, Musafir and Pyaar Hua, Ikraar Hua. He has also featured in music videos — Yeh Gotedaar Lehnga, Sandese Aate Hain (patriotic), Kurti Tang Pajami Lal, Yaad, Baba Bakhtaura and Nehron Paar Bangla.
Recently he's shifted to Mumbai as he's acting in some Bollywood movies.