GALLERY
Shaggy sings praises of India
International hip-hop and reggae star Shaggy has said he keeps returning to India drawn by the country's soulful classical music and the glitz and glamour of Bollywood. "Indian music is really touching," says Shaggy.
"It is deeply spiritual and touches a chord in my heart, it draws me closer to the country." He says he wouldn't mind belting out a few numbers in Hindi filmdom. "I am hoping the right song comes around and then I would love to sing for Bollywood. Bollywood is getting really big around the world." The chartbusting singer of hits like Boombastic and In the summertime, who is settled in the US, had recently performed in Delhi and Mumbai. The singer was in India two years ago when he sang Boombastic at the Channel V awards in Mumbai.
Shaggy, renowned for his tongue-in-cheek lyrics and sexy stage act, has seen six of his singles go platinum.
Boombastic won him a Grammy in 1995. The Jamaica-born, US-based star has performed in over 75 countries and has sold 10 million albums worldwide.
The singer says he bonds with India because the country, in many ways, is like his native Jamaica. "I'm from a country like India. Jamaica has similar problems and similar joys and warmth. I sense that warmth in India, that affection and love from the audience."
The only problem, he says, he encounters is the rampant piracy in the Indian music market.
"Unless piracy stops, it will be difficult to consider India a major market for music," Shaggy explains. "How can any artiste think of good sales if everything just gets illegally copied?" Next in line is a scheduled holiday in India. "I want to come here without work, when I can do all my sightseeing."
Laurels for Leonardo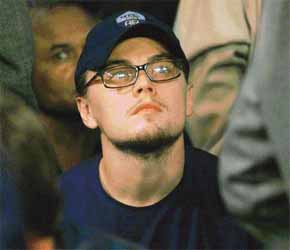 Annette Bening and Leonardo Di Caprio have been chosen for top honours in the upcoming Hollywood Film Festival.
They are slated to receive the 'Hollywood Actress of the Year' and 'Hollywood Actor of the Year' awards at the festival's grand award ceremony on October 18 at the Beverly Hilton, reports hollywoodreporter.com.
"Annette Bening and Leonardo DiCaprio represent excellence in the art of acting, and it gives us great pleasure to honour these talented professionals and their accomplishments at this year's festival," said Hollywood Film Festival founder Carlos de Abreu.
Both will be seen in movies again after being absent from the big screen for a brief time.
The American Beauty actress, 46, who had been nominated for a 2000 Academy Award and a Golden Globe for her role opposite Kevin Spacey in the film, will be seen opposite Michael Douglas in Being Julia in October. And Di Caprio, the 29-year-old Titanic star, will be starring in a Howard Hughes biopic The Aviator. — IANS
This feature was published on October 9, 2004