Exploding myths about cancer
Vimal Sumbly
Tribune News Service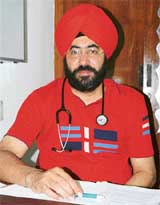 Dr J.S. Sekhon

Ludhiana, May 28
Despite a lot of research the cancer still remains a mysterious and the most dreaded disease. The belief that it is difficult to diagnose it in the earlier stages needs to be corrected as the doctors assert that cancer can always be detected at an earlier stage when it can be controlled and cured. Probably for little casual attitude towards some common symptoms, the cancer is proving to be the third highest killer in the country, after cardiac and infectious diseases.
According to Dr J.S. Sekhon, Head Division of Medical Oncology, Dayanand Medical College and Hospital here, in case a patient comes for treatment at an earlier stage he has better chances of recovery. He maintained that some common symptoms, if taken care of, can provide better leads and save the patients. He said unexplained pains, continuous oozing from some body parts, particularly the nipples (in case of women, where it can be a symptom of breast cancer), continuous bleeding or lowering of the haemoglobin level can be symptoms of the disease. Although not necessarily, but there is nothing wrong in getting oneself examined.
Dr Sekhon regretted that most people came to the medical experts quite late when it became difficult to treat them. Quoting from his experiences, he said, he had found a number of people, highly educated included, taking recourse to hakeems and unqualified people for the "wonder cure" which obviously does not exist.
He said, although cancer was not fully curable, but there was hope for patients even in advanced stage. Various therapies have shown good results in increasing the expectancy of the patients by as much as two years, depending upon the response of the patient, which varies from case to case.
Although no particular food habit has been found to be responsible as no apparent cause has been found so far for cancer, but experience has shown that people taking a lot of non vegetarian food are more prone to the cancer of colon (large intestine). Similarly, Japanese who take smoked food also suffer from stomach cancer. The research has established that after people started consuming less smoked food the incidence of cancer had also reduced. Smoking in itself is also believed to be the cause of cancer.
In the north and northwest there are more cases of the gall bladder cancer. It is found nowhere else in India. However, there are other areas in the world like Israel, where the gall bladder cancer occurs. As the old saying goes, prevention is better than cure, it holds perfectly true for cancer, where little precaution can really save a person from a deadly affliction.