AUDIOSCAN
Old world charm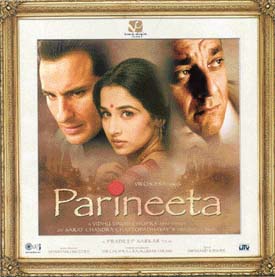 Parineeta (Tips): Vidhu Vinod Chopra is quite a stickler for authenticity. We are yet to see the effort the director has taken to make this film true to Sarata Chandra Chattopadhayay's original classic but he has certainly worked a lot on the music. It is miles away from the run-of-the-mill stuff that we have in films of today. This can be gauged from the fact that he has neither taken a mainline music director nor a lyricist. The honours have gone to Shantanu Moitra and Swanand Kirkire, respectively.
They have indeed captured the mood of 19th century Bengal in the seven songs they have done for this film. Music is low-key and the lyrics redolent of an old-world charm. Swanand proves that he is a good singer also through duet Raat hamari toh that he croons with Chitra. Incidentally, this is the longest song of the film, running into more than five minutes. On the other end of the spectrum is Hui main Parineeta (Shreya Ghoshal and Sonu Nigam) which is about half this length, but leaves the maximum impact. How one wishes it were a little longer.
Shreya Ghoshal is the main singer and she figures in four of the songs. In fact, male singers do not have even a single solo. After all, it is a heroine-oriented film.
Sunidhi Chauhan is outstanding in Kaisi paheli zindagani. Dhinak dhinak dha, sung by Rita Ganguly, is a fun song, the kind often heard during typical wedding festivities.
On the whole, it is an unusual effort at a time when fusion music and loud orchestration are the order of the day.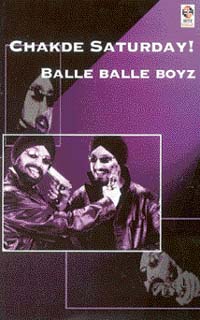 Fun all the way
Chak de Saturday (Hitz Today)
Music Today is known for promoting classical and semi-classical music. Now it has launched a new offshoot, Hitz Today, presumably to dabble into popular music.
Chakde Saturday is an apt launch vehicle for the label, since it features nine danceable songs by Punjabi pop duo Balle Balle Boyz. They have tasted success in their previous two offerings and this time have made old with with a more funky album which features a 3-D animation video, a first for India.
Since the language is a mix of Hindi and Punjabi, it may appeal to non-Punjabi audiences as well. In any case, the lyrics are not exactly meant to be taken seriously in such presentations. These have been penned by Balle Balle Boyz themselves (we guessed as much). What matters is the beat and there are no reasons for complaints in that department. To make the album more groovy, there is humour galore. So, it is all fun and frolic all the way.
— ASC