M A I N N E W S
Sushmita revisits paradise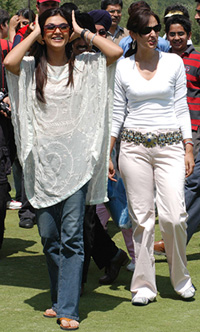 Bollywood actress Sushmita Sen (left) at the Royal Springs Golf Course, near Dal Lake, in Srinagar on Saturday. — Tribune photo by Amin war
Srinagar, June 4
"It is like coming home to paradise. I wanted to experience this absolutely magnificent opportunity, something that I have missed for the past 20 years," said former Miss Universe Sushmita Sen today as she recalled her visit to Kashmir when she was nine years old.
"What a pleasure to be here. Paradise will always remain a paradise, whatever happens there. I missed the valley tremendously. I feel like I have come back home and am among my own people as I recall my childhood," the filmstar said after the opening of the one-day TAG Heuer Golf tournament here.
She said it was a great loss to the film industry that movies were no longer being shot in the beautiful valley.
"We have had a long wait. The first opportunity I get, I would love to come here and shoot. I would also personally like to bring a production house to Kashmir," she added.
Ms Sen mesmerised the audience by saying few words in Kashmiri — "Warey chuka (How are you)"?
She said Kashmir had opened its arm to the world. "So please come back and experience this paradise," she added.
The filmstar also praised the women of Kashmir. "Masha Allah, they are so beautiful and confident," she added. — UNI