Duttís the way to live
He was much more than an actor. With an ear to the ground and a hand on the pulse of the people, Sunil Dutt lived by his convictions and led from the front.
V. Gangadhar recalls his association with the indefatigable marcher and Surendra Miglani recounts the less-known facts about Dutt Saab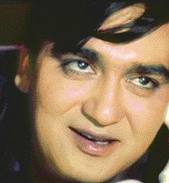 Sunil Dutt, my best friend in the Hindi film industry, was always marching - to bring peace to the bleeding Punjab of the 1980s, to halt the spread of nuclear weapons, to commemorate the Dandi march, to protest against any kind of injustice.
One of the most versatile individuals, Dutt Saab was an actor, an MP, a social worker, a family man, a crusader against cancer and a courageous crisis manager. Life for him was one crisis after the other ó his early struggles as an actor, bankruptcy as a producer, the death of Nargis, his wife, battle against son Sanjayís drug addiction and, later, TADA arrest, defence of anti-national charges against Sanjay, survival in an air crash and many more. He never allowed such personal crises to halt his main work.
This was what he had promised his mother. The work must go on.
Will you ever have a moment of peace, I once asked him. Donít I look peaceful, have you ever seen me flare up, he laughingly replied. And that was the truth. "I have full confidence in our people, in our nation," he said, though the charges against Sanjay hurt him deeply. Particularly, the letdown by his so-called friends within the Congress. He never fully understood politics, the corruption and hatred it generated. He had entered politics to help his friends, the Gandhi family.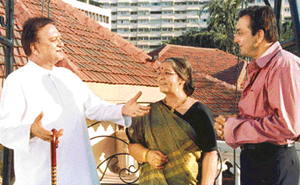 Sunil Dutt with son Sanjay and Rohini Hattangady in Munnabhai MBBS

As an MP, he had a platform to carry out his work. But the work was always based on social commitments towards cancer patients, mentally retarded children, slum dwellers. The people of Mumbai North-West understood this and that was why they elected him to the Lok Sabha five times running. Power and position meant nothing to Dutt Saab, who was the only MP to resign in protest against the governmentís failure to protect citizens during the 1993 communal riots. His role in helping the riot-hit earned him many enemies, most of them within the Congress. The knives were out and wounded him and son Sanjay. Dutt Saab was very hurt by the charge of being anti-national levelled at his family. Didnít they know how much we had served our nation, our armed forces and our people, he asked in anguish. The wounds were slow to heal but there was work to be done. The appointment as Union Minister for Sports was accepted without much ado; it was not all that important for him.
Yes, he was a film man to begin with. But that was incidental. As an actor, he was competent and may not have possessed that spark of genius associated with a Dilip Kumar or a Raj Kapoor. Though he had plenty of hits, Ek Hi Rasta, Sadhana, Padosan, Mother India, Milan, Khandaan ,the pull of the nation was strong and as a young actor-producer his Ajanta Arts provided solid entertainment to the jawans posted in the remote areas like Leh and Himayalan glaciers. Accompanied by stars and singers, Dutt Saab and Nargis braved many a hardship at high altitudes to make the jawans happy.
With more than 100 films as an actor and eight or 10 as director, Dutt Saabís contribution to Bollywood was considerable. As a producer and director, he was way ahead of his times. Imagine making a one-actor film like Yaadein in the 1950s. Reshma aur Shera, in glorious colour, was poetry in celluloid. Socially significant films produced by Dutt did not click commercially and left the family with serious financial problems. "If young producers do not experiment, who else will?" he argued.
Once I spent a couple of days with Dutt Saab when he talked about his debut film, Railway Platform. The shy young man from Punjab, who regarded all women as his mothers or sisters, had to kneel in front of actress Sheila Ramani in a cabaret scene and embrace her bare knees. "I froze, I sweated," recalled Dutt Saab with a chuckle. "I bungled shot after shot despite Sheila Ramaniís comforting words that it was all make-believe. The director was furious and threatened to sack me. Well, we did nearly 40 takes before everything was okayed." ó V.G.