Anal fistula: treatment options
Dr Pankaj Garg
The disease of anal fistula is as old as mankind. Thousands of years ago, Hippocrates made reference to surgical therapy for fistulous disease. English surgeon John Arderne (1307-1390) wrote "Treatises of Fistula in Ano; Haemmorhoids, and Clysters" in 1376, which described fistulotomy and seton use.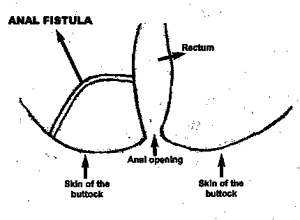 Historical references indicate that Louis XIV was treated for an anal fistula in the 18th century. Over the last 50 years many surgeons have presented new techniques in an effort to minimise recurrence rates and incontinence (loss of control over passing stools) complications. But despite 2500 years of experience, anal fistula remains a perplexing surgical disease.
Causes and types
Anal fistula is usually caused by an abscess in the anal region. When the abscess between the rectum and the skin of the buttock bursts, it makes a bypass tract (tunnel) connecting the rectum and the buttock skin. This tunnel or tract is called anal fistula. Occasionally, anal fistula develops secondary to trauma, Crohn's disease, fissures, cancer, radiotherapy, tuberculosis, and other infections. Anal fistula can be low or high depending upon its opening in the rectum. Fistula opening high up in the rectum (high fistula) are difficult to manage as there is risk of incontinence (loss of control over passing stools).
Features
Anal fistula generally presents as a small boil like nodular opening around the anus at a distance of a few millimetres to a few inches, in any direction. This nodule episodically becomes swollen and painful. The nodule bursts with the discharge of pus and blood and after this pain subsides. The pus discharges for a day or two after which it stops spontaneously. This cycle may keep on repeating itself for years. Occasionally, the patient presents with multiple fistulae. Patients often give a history of previous pain, swelling and spontaneous or planned surgical drainage of an anal abscess.
Diagnosis
Most of the cases are diagnosed on physical examination — inspection, palpation and proctoscopic examination by a surgeon. For cases where primary opening is difficult to identify or in the case of recurrent or multiple fistulae, additional investigations are needed.
Fistulography
This involves an injection of contrast via the external opening, which is followed by x-ray images to outline the course of the fistula tract. MRI-in 80-90 per cent of cases, MRI can accurately delineate the primary fistula tract course and its secondary extensions.
Treatment
Medical management has no role in the treatment of fistula-in-ano. Antibiotics may be given in the acute phase of pus discharge, but they do not change the outcome of the disease in the long run.
Surgery
Surgery is the mainstay of treatment. Conventionally, fistulotomy/fistulectomy is the surgery done for anal fistula. In this surgery, the fistulous tract is either laid open (fistulotomy) or completely excised after dissecting it out (fistulectomy). This surgery is convenient for low-level single fistula. For multiple and high-level fistula, it leads to a lot of dissection and results in large wounds which takes a long time to heal. Moreover, for high fistulas, the operation can lead to the cutting of anal sphincter which can lead to anal incontinence (loss of control over passing stools).
Therefore, Seton placement, which is a non-operative treatment, is a better option. The earliest reference of Seton (Ksarshutra) can be found in the ancient Indian literature, Sushruta Samhita. A seton (thread tie) can be placed alone, combined with fistulotomy, or in a staged fashion. This technique is useful in all kinds of anal fistula. The advantage of this technique is that there is no wound after the treatment and the patient can resume work the next day. For high fistula, recurrent fistula and complicated Multiple fistulas, the seton placement can be difficult. In our experience, the use of endoscopy has simplified the placement of seton in such cases.
However, there is a second school of thought according to which medicated seton leads to better healing. But this is controversial as the latest studies have shown that medicated threads are more painful and do not improve healing. (As per the study published in "Techniques in Coloproctology," Vol 5, No.3, Page-137-141, Dec. 2001)
Besides this, the most important aspect is that any seton placement by quacks/unqualified persons can be dangerous and can lead to more complications. Therefore, it should be got placed by qualified surgical specialists only.
Seton placement is by and large the efficient and the most convenient technique to manage anal fistula.
Future
Recent advances in biotechnology have led to the development of many new tissue-adhesive materials. One such example is of fibrin glue treatment of fistula-in-ano. By its less invasive nature, this therapy leads to decreased postoperative morbidity. However, information on long-term success rates and modification of techniques will have to await further studies.
The writer is Senior Consultant in Surgery, Fortis Hospital, Mohali.