No Uphill work, this
Vishal Gulati
Are you an adventure freak and want a future in the mountains? Mountaineering is a field that offers daredevils a chance to combine work with pleasure.
Field for the fit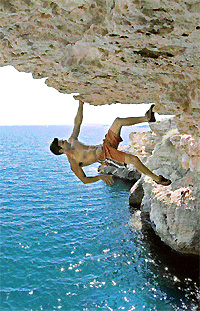 For admission to various basic mountaineering courses, a candidate must be physically fit and determined to scale snowy peaks and take a dip into snow-fed reservoirs and lakes. The candidate should be between the ages of 16 and 40. However, for water sports courses, it is mandatory to know swimming.
For advanced courses, the candidate should have completed the basic course with "A" grade.
Scale new heights
The Directorate of Mountaineering and Allied Sports, Manali, has been imparting training in various disciplines of adventure sports since 1961. It is the only government-run institute in the North that is conducting courses in various disciplines of mountaineering, skiing and water sports.
"Every year, we train nearly 5,000 persons, who join the course for the sake of adventure or for taking up jobs in this field," says Rajeev Sharma, senior mountaineering instructor at the institute.
"The institute has produced seven Mount Everest conquerors, including three women," he claims.
The directorate has eight centres in Himachal Pradesh that are conducting basic, intermediate and advanced courses. It also conducts national and state-level winter games, white-water rafting, water regatta, mountaineering expeditions and skiing and kayaking competitions regularly.
Says the in-charge of the Regional Water Sports Centre, Pong Dam, R.R. Thakur: "After completing a course in water sports, one can join as an instructor in an educational institute or the water sports institute as a visiting instructor."
Guide the way
The increasing influx of tourists, especially foreigners from Israel, Germany, the UK and several other European countries, has made mountain tourism a booming sector. The demand of mountaineering guides is much more than their availability. This is going to increase in the near future. A qualified graduate with a certificate in mountaineering can pursue her/his career in a travel agency as an executive or guide.
Puran Thakur, a mountaineering guide with Manali-based Arohi Travels, says that at present there are more than 100 travel agencies in the town that organise adventure camps in the Spiti, Kinnaur and Sarchu areas.
"One can start a career as a guide with a travel agency or begin one's own travel agency as the craze for mountain tourism is catching up among Indian tourists, especially those from Maharashtra, Gujarat and West Bengal," says the guide. This is one of the fastest growing areas of the tourism industry.
Stream of options
The directorate and its centres provide training in rock climbing, rappelling, river crossing, trekking, camping, map reading, skiing, swimming, water safety and rescue, canoeing, kayaking, rowing, sailing, water surfing, skiing, white-water rafting, etc.
Course clues
The 26-day basic mountaineering course starts on the first of every month, except in August, and the 28-day advance mountaineering course begins in the last week of every month. However, basic, intermediate and advance skiing courses are conducted between January and April only.
The duration of the water courses varies from three to 21 days. The 14-day basic course starts on the 1st and 16th of every month. The 21-day advance course in sailing starts on July 1 and the 14-day intermediate course in white-water sports starts in October and November at Kulu, Aut and Sujanpur Tihra. The short-duration courses are of three to eight days, depending upon the requirement of a group or an individual.
Special courses are conducted on request from clubs, other organisations and the armed forces. After the completion of the course, a certificate is given.
Money matters
The initial remuneration of a guide ranges between Rs 6,000 and Rs 9,000 per month, depending upon the flow of tourists.
The fee for the getting trained in mountain sports varies from Rs 3,100 to Rs 4,000 , which includes board and lodging, training, etc. For Himachalis there is some discount on the fee.
Training talk
Some institutes that offer mountaineering, skiing and water sports courses:
Himalayan Mountaineering Institute, Darjeeling.

Nehru Institute of Mountaineering, Uttarkashi.

Jawahar Institute of Mountaineering, Batote, J&K.

Directorate of Mountaineering and Allied Sports, Manali. (himachal.nic.in/dmas)

Regional Mountaineering Centre, McLeodganj.

Winter Sports Skiing Centre, Kulu.

High Altitude Trekking & Skiing Centre, Narkanda.

Mountaineering Sub-Centres, Bharmour and Jispa.

Water Sports Centre, Bilaspur.

Regional Water Sports Centre, Pong Dam.

Adventure Sports Centre, Hatkoti

— The list is not exhaustive