M A I N N E W S
IAF team leaves for France
to take part in 'Garuda-II'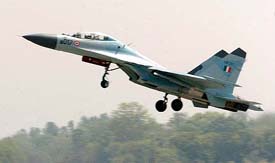 A Sukhoi-30 fighter jet takes off from Air Force Station, Bareilly, on Thursday to participate in the Indo-French defence co-operation joint exercise 'Garuda-II' at Istres Airbase in France. — PTI photo
Bareilly, June 9
An Indian Air Force team, comprising six Su-30K air superiority fighters and an Il-78 mid-air refueller, today left for France to participate in 'Garuda-II' — the second joint fighter exercise with the French Air Force.
The Su-30Ks, from No 24 Squadron ('Hunting Hawks') and the Il-78 from the Agra-based Mid- Air Refuelling Squadron (MARS), were flagged off from here by Vice- Chief of Air Staff Air Marshal S K Malik.
Speaking on the occasion, the Vice-Chief called on the Air Warriors to ''live up to the reputation'' of the IAF by doing well in the exercise.
Observing that it was ''very difficult'' to build a reputation and ''equally difficult to maintain it'', he said the exercise offered them ''a big challenge'' of flying in 'a different environment and tight air space''.
Later, briefing reporters on the aims of the exercise, Air Marshal Malik said 'Garuda-II', where the Sukhois match their expertise against the French Air Force's Mirage 2000-5 fighters as well as the older Mirage 2000C version, would focus on air defence techniques as well as acquaint the IAF with use of an AWACS. — UNI