M A I N N E W S
Tortured widows donate Rs 1 cr
to Rajiv Gandhi Foundation
Vibha Sharma
Tribune News Service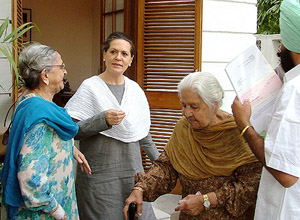 Beant Kaur (right), widow of Air Vice-Marshal Harjinder Singh, and her younger sister Satwant Kaur after presenting a cheque for Rs 1 crore to Congress President Sonia Gandhi for the Rajiv Gandhi Foundation in New Delhi on Thursday. — Tribune photo by Rajeev Tyagi
New Delhi, June 9
Today brought a happy end to the tragic story of torture and pain that India's first woman pilot Beant Kaur and her sister Satwant Kaur faced for almost two decades, allegedly at the hands of her adopted son, all for the sake of her multi-crore property in the posh Sector 3 of Chandigarh.
Last week, Ms Beant Kaur sold the house that had brought her so much unhappiness for Rs 1.5 crore. Today she, along with her sister, met Congress President Sonia Gandhi in the Capital and donated "Rs 1 crore to the Rajiv Gandhi Foundation. " Rs 50 lakh is sufficient for both me and my sister to live comfortably for the rest of our lives," she said.
In fact, a beaming Satwant Kaur told The Tribune that they were feeling relieved and free of tension after donating the cheque for the sake of a good cause to the Congress President. "It is better not to have money if it brings so much misery and pain. What is the use of having a house, carpets, money, jewellery if they bring so much unhappiness. We went through hell for 25 years because of all these. The nephew my sister had adopted tortured us and did not let our relatives meet us, fearing that she might give away her property to someone else. Later, he also alleged that our relatives were helping us for the sake of the money and the property. The money is now in good hands and will be used for a good cause, " she said with tears of happiness welling in her eyes.
"Even Ms Gandhi was visibly hurt and expressed concern at what all we went through. She said while it was true that older people were not cared for in western societies, such a thing happening in India was shocking."
The news regarding the alleged torture of the two sisters was highlighted in these very columns in November. Last year, 88-year-old Beant Kaur, widow of Air Vice-Marshal Harjinder Singh, alleged that she and her younger sister were being tortured for over past 10 years by her nephew, who she had adopted when he was four-year-old.
Air Vice Marshal Harjinder Singh was the first Indian technical officer to join the IAF. A pilot as well as an engineer, he was a compatriot of the Marshal of the IAF Arjan Singh and IAF's legend, Baba Mehar Singh. Instrumental in the indigenous production of Avro transporters in India, he retired as AOC-in-C of the Maintenance Command in 1964 and then served as technical adviser to the Punjab and Haryana governments on a token salary of just Re 1. He died in November 1971 while giving a lecture at DAV College here. An entire colony in Kanpur has been named as Harjinder Nagar after him.
Recalling nostalgic memories of her own interactions with Pandit Jawaharlal Nehru, Indira Gandhi and Rajiv Gandhi, in her letter to the Congress President, Ms Beant Kaur says," Rajiv Gandhi's special focus was on minorities. He once remarked "the minorities are the greatest strength of the country and the day this strength is used India will emerge as a leader in the world in all spheres".
Praising Mr Parminder Singh who accompanied her to meet Ms Gandhi for supporting her and her sister, she says that with the remaining amount they will rent a house in Chandigarh.
Col Bains had denied all these allegations levelled against him by his aunts. He however, continues live in the same house.