M A I N N E W S
Storm wreaks havoc
15 killed in Sirsa-Bathinda-Abohar belt
Tribune News Service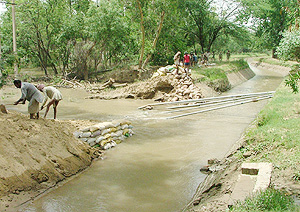 A view of the Bathinda distributary that got damaged in a fierce duststorm that hit the city on Thursday. ó A Tribune photograph

Chandigarh, June 10
As many as 15 persons were feared killed when a high velocity storm struck the Bathinda belt bordering Haryana and Rajasthan last night uprooting trees, bringing down electricity and telephone poles and damaging Bathinda distributary, several canals and minors in the area.
So intense was the storm that it wreaked havoc bringing down walls and blowing off tin-sheeted roofs and signboards. Reports of maximum number of deaths came from Fatehabad and Sirsa, where six persons were reported to have died. Although the official death toll for Sirsa district was given as three. The other deaths reported were, two in Bathinda, two in Fatehabad, one in Abohar and one in Yamunanagar.
Six deaths were reported from Fatehabad district. Two labourers were reportedly burnt alive in a fire incident in a cardboard factory in Ratia town of Fatehabad district. In another fire incident one person was killed in the same district. In Bangoan village an aged person was killed when the duststorm uprooted a tree under which he was sleeping. In the same village a four-year-old boy fell into a water reservoir during the storm while a girl was killed when a flying object hit her in Meondakalam village.
Sirsa: At least three persons including two women, were reportedly killed in devastation caused yesterday by high velocity winds here. Unofficial reports put the toll at six.
According to official reports reaching here, Joginder Bai of Kuttabad, Pataki Devi of Chaprian and Ram Singh of Risalia Khera died last night. Families of the three deceased were given exgratia of Rs one lakh from the Chief Ministerís Relief Fund. Cheques for the exgratia were handed over to the families of the deceased today by the Deputy Commissioner, Mr S.K. Goyal.
Meanwhile, according to unconfirmed reports three persons had also died in Dhani Majra and Thobia villages.
The Deputy Commissioner has instructed the BDOs to assess the losses in the village and asked them to submit the reports soon.
Dabwali: Property and crops worth lakhs of rupees were reportedly damaged in last nightís duststorm. Electricity and communication lines were badly damaged.
Hundreds of acacia and eucalyptus trees were uprooted and blocked highways and canals in the district.
Electricity supply to the entire district was severely hit and could be restored only after 4 pm in the town whereas as some parts of the district remained without power till late in the evening. Erratic power supply also hit water supply in the entire district.
Water in Bhakhra main line crossed the danger mark as several trees fell in it. There was a threat of flooding near Khuian Malkana village in Dabwali subdivision.
Timely action by the irrigation department, however, saved the canal which is also known as the lifeline of Rajasthan. Mr M.C. Goyal, Superintendent Engineer, praised the villagers of the area for extending their support to the officials of the department to take the floating trees out of the canal.
Bathinda: Fierce duststorm accompanied with rain lashed the city for about an hour late last evening throwing normal life out of gear. While two persons died, nine others were injured in and around the district. Various distributaries and minors got damaged due to uprooting of trees.
The Bathinda distributary got damaged in the duststorm and its nearby areas were inundated. The duststorm also damaged Bhadaur distributary, Neor minor, Tapali distributary, Chotian minor, Bhundar minor, Ginda Manda minor, Maan minor and Mithari minor.
The Xen, Mr S.K. Sathana, said the situation was under control now, but they would have to keep a strict vigil tonight as further damage in any of these minors and distributaries could cause extensive damage. He said the main problem that they were facing was the closure of the main canal for carrying out the repair work. He said the main Bathinda branch was flowing above the danger mark and he was closely monitoring the situation. He said the repair work on Bathinda distributary was carried out from 1.45 pm to 4.45 pm today and subsequently 50 cusecs of waster was released in it. He said they would increase the water level slowly up to the 160 cusec mark. He said if everything went right then all distributaries and minors would regain their original shape by tomorrow night.
Meanwhile, power supply to many localities was hit.
An electricity pole fell un Veer Colony and Agarwal Colony disrupting the power supply to the nearby areas.
Two persons fell from the roof at Mata Rani Gali. The condition of one of them, was stated to be serious.
Two labourers also suffered injuries after falling from the roof in Balla Ram nagar. While one person died two others were injured in Rama Mandi where a wall collapsed. Rajesh Kumar, a labourer, died in Rapura. There were also reports of fire incidents from Amrik Singh Road and Pujawala locality of the city.
Meanwhile, fire broke out in some brick-kilns at Malkana and Jandawala villages. Fire also broke out in a factory on Bajakhana-Jaito road. Fire tenders were pressed into service all through last night. Telephone lines in various villages were also damaged.
ABOHAR: A married woman, Kamla was killed and four others were injured as winds of almost 40-km per hour velocity lashed the region last night. Electricity supply remained suspended for almost 18 hours. Several persons were caught unawares when the duststorm suddenly lashed the subdivision.
Fire fighting station received calls from 15 villages requesting for assistance but the vehicles at the station were not technically fit to rush to the sites. In most of the cases fire spread as women were busy cooking on tandoors. Jhuggies were gutted in three villages. At Khubban village fire was caused due to a short circuit.
According to reports received from different sarpanches traffic on Sriganganagar-Abohar (NH 15) remained disrupted till this morning due to uprooted trees. People were seen carrying fallen trees in tractor-trailers as the Forest Department officials were no where in sight, sources said.
Streets in Sidhu Nagri and some other localities were flooded with overflowing sullage as main disposal works could not function properly due to power breakdown.
YAMUNANAGAR: A 22-year old Nepali migrant labourer was killed and another person was seriously injured when a wall of R.D. Plywood Factory in Joriana, collapsed during the storm late last night.
As per police sources, Johari, the Nepali labourer whose hut was adjacent to the factory wall was collecting his household goods when the wall collapsed. Another labourer Parmod who too was gathering his goods suffered serious injuries.