The business of kidnapping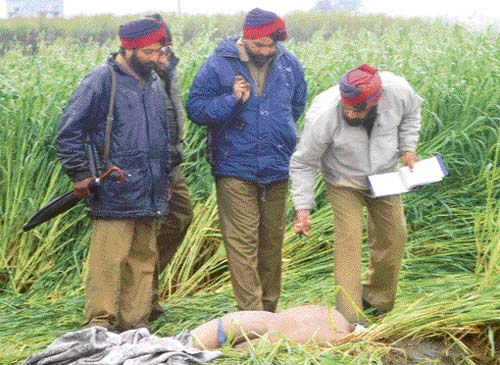 If one looks at the crime figures of Punjab for the past five years, cases of kidnapping and abductions have been around 500 a year. In 2002, there were 575 cases of kidnapping while in 2004, there were 513 kidnappings. Prabhjot Singh looks at how kidnapping for ransom has become the new fast-growing enterprise in northern India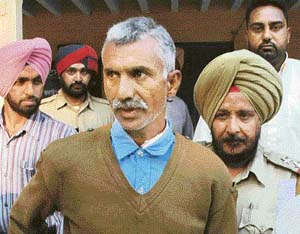 Darbara Singh being taken to the police lines in Jalandhar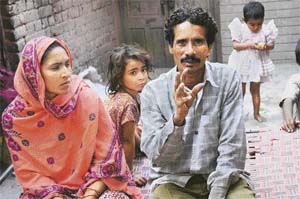 Maqsood and Najreel, parents of Tazbin, a victim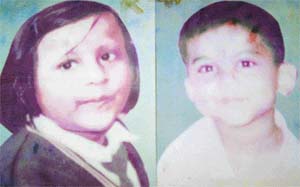 Henna and Abhishek were victims of personal enmity
— Photos by Pawan Kumar

IT's no longer an occasional crime. Kidnapping appears to be growing as a business in North India. Terrorists, smugglers, former soldiers as well as policemen, are all attracted to this 'business' for making a quick buck. Besides the rich and the influential even the common man, petty traders, employees, businessmen and sometimes tourists also are targeted by kidnappers.
Punjab and Haryana are particularly 'fertile land' for this enterprise as is apparent from the spurt in kidnapping cases, nearly 30 to 50 per cent of which are for ransom, another five to 10 per cent are cases of "wishful disappearance." Other reasons of kidnapping can be settling personal scores, business and political rivalries, matrimonial as well as family disputes, especially over the custody of children, property wrangles and lastly, with intent to kill the victim.
Though the police in Punjab admit that when terrorism was at its peak, kidnapping for ransom of influential people, both within and outside the state, was managed by militant organisations, yet it maintains that unlike neighbouring Haryana and western Uttar Pradesh, there has been no reported case of organised kidnapping for ransom. The only exception, the Punjab police admits, has been the infamous Prabir Singh case.
Of the three major recent cases that hit the headlines in the first two months of this year, Prabir Singh belonged to an affluent family while Abhey Verma and Amandeep Singh were from from middle class families. While hardened criminals were behind Prabir's kidnapping, first-timers or petty criminals masterminded the remaining two abductions in which the victims lost their lives.
Unfortunately, the number of cases in which hostages are done to death by their alleged captors have been on the rise.
In Punjab and neighbouring Haryana, kidnapping and hostage taking have become rampant, more so in the past five years, with 500 cases each reported from each of these two states annually. No doubt, the trend has been fuelled by the growing gap between the rich and the poor and an increase in regional and political conflicts, yet the security forces in the region have not been sufficiently trained to counter it.
This year, 50 cases have been registered so far. Of these, only eight to 10 per cent of the cases are for ransom. The failure of the police is apparent due to the rise in instances of kidnapping for ransom of innocent children. Law-enforcing agencies lack expertise as well as training in identifying, assessing, managing and reducing the risk. They are also unprepared for crisis management and negotiation with kidnappers. The onus is on them to make the victim's panicky family members cooperate with them at every stage so that they can detect where the hostage is held and can be rescued. Failing that, the police should be able to arrest and convict the kidnappers after the release of the victim has been secured.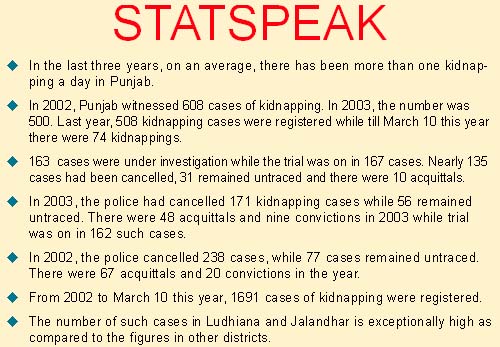 Rattled by a series of kidnapping and disappearances under mysterious circumstances during the past few months, the Punjab police claimed a limited success in the infamous Prabir Singh case, yet it failed to save the lives of a number of innocent children, including 14-year-old Abhey Verma of Hoshiarpur and four-year-old Amandeep Singh of Goraya, who were brutally murdered in captivity.
The police tracked down the kidnappers but not before the ultimate damage had been done. In all, 31 victims in 91 cases since 1996 have lost their lives in captivity while the fate of 11 others is still unknown as they are untraced.
Prabir Singh, alias Guddu, son of an affluent rice sheller owner, was kidnapped from a congested locality of Amritsar on February 7. One of the kidnappers was armed and in police uniform.
Interestingly, the kidnappers used the car of the victim in the crime. Eleven days later, when Prabir was released by his captors, a huge amount had been paid as ransom.
Though the police ultimately succeeded in tracking down all eight main suspects and their accomplices involved in the crime, yet the case left several questions unanswered on the professional competence and crime management of the police. One of the suspects, probably the last to be "shown" arrested, had worked as a gunman with several senior police officers of the State before being dismissed from service. This gang of eight included a smuggler, a dismissed policeman, an ex-militant besides others.
How the kidnappers could move around freely for several days in the state in the vehicle, a luxury Lexus, belonging to the victim is baffling. Not only that, they used parking lots of a major hospital and the only five-star hotel of Ludhiana for keeping the vehicle away from the preying eyes of "police on high alert."
This case was probably solved as the policemen tailed family members, who were negotiating with the kidnappers on the basis of intelligence inputs as well as irrefutable evidence provided by cellular phones.
If one looks at the demand for ransom in the 100-odd cases registered by the police during the past five years, it varied between Rs 40,000 and a few crores. Interestingly, the car has been the most convenient mode for kidnapping while the 'baby serial killer' used his bicycle to commit the crime. In some cases, victims were picked either from in front of their houses or on their return from schools.
Police sources maintain that kidnapping for ransom has an overseas or transnational dimension as well. In a couple of cases, hawala channels were used for the payment of ransom. Even negotiations were done through overseas conduits.
Use of technology alone does not help solve all such cases. For example, the police is yet to trace Gian Deep Singh, kidnapped in 1996, the son of a doctor from Amritsar. Investigations have been transferred to the Central Bureau of Investigation.
Another case under investigation, even after 20 months, is that of Dr Rajinder Kumar Sharma of Nawanshahr. He was kidnapped on September 20, 2003, but the police are yet to make a breakthrough.
Equally baffling is the case of Avtar Kaur Jawandha of Nabha. She had worked in the Secretariat of both Harcharan Singh Brar and Surjit Singh Barnala. On the directions of the high court, a case of kidnapping was registered in February this year, nine months after her disappearance. In all, there have been 18 cases of kidnapping registered during the past five years which the police has still on hands to solve.
The policemen hold that each case of kidnapping has to be tackled independently of any other case as the motive behind crime may not be the same. Motives may vary between personal, financial,matrimonial, property, political and business disputes.
Then, there have been instances where "killing" the victim in cold blood has been the only sadistic motive behind the kidnapping. Darbara Singh, a serial killer of Jalandhar, had done to death 10 minors. A dismissed security man, he would lure his victims with toffees and take them away on his bicycle before either strangulating or drowning them. Similarly, a serial killer of Bahadurgarh in Haryana had done the same to a number of innocent children in his area of operation.
Jealousy is often a motivating factor of such heinous acts. A boy from Bholath, Kapurthala, was left unconscious in Gurdaspur by the kidnapper, a family friend. In another case reported from Jalandhar last year, the victims were done to death by the accused who had a grouse against the victim's parents.
Interestingly, kidnapping cases also get mixed with the "wishful disappearances" as it happened in the case of 13-year-old Kanwalpreet Singh, son of a retired Deputy Superintendent. His repeated withdrawal of money by using his father's ATM card at different branches of a private bank in North East ultimately led to his being caught and brought back.
The boy had actually gone missing on January 29 this year but a complaint with the police was lodged on February 6. The father alleged that his son had been kidnapped by certain militants.
Then there has been the case of a girl from Sangrur who was kidnapped late last month. She was traced in Burail village in Chandigarh in custody of her brother-in-law. It turned out to be a case of love affair and "wishful disappearance".