SIGHT & SOUND
Star tantrums
Amita Malik

FOR sports lovers, sports are basically for entertainment. For bookies, sports are there for illegal fast bucks. For sportspersons, sports are a serious professional business which mean fame, money and ardent admirers if they succeed, mostly equal to those of filmstars. As with all forms of entertainment, sports not only throws up stars but character actors and actresses as well who add to the drama of sports. And they apply to all forms of sport. This week, I intend to pick up a few who have given us not only drama but anger, delight and anguish by turns.
I shall begin with tennis, which is my first love. To my generation, two of the greatest character actors of tennis were John McEnroe and Ilie Nastase. McEnroe's tantrums on court, fight against umpires, use of bad language, coupled with a splendid game of tennis, brought out the worst in him.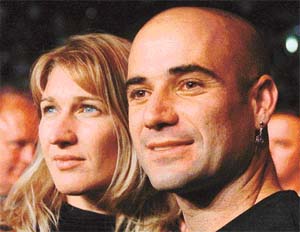 Andre Agassi is one of the best character actors on court. Also seen in the photo is Steffi Graf
But viewers enjoyed it even more on TV because one cannot get those wonderful close-ups when one is watching it live at the tennis court itself. The John McEnroe and Jimmy Connors encounters were a joy to watch, and the clever, brainy tennis far removed from the brainless baseline duels of today where both players hit hard and whoever hits out first loses. Nastase, the Romanian, was aptly known as Nasty, and he was very nasty on the court and sometimes off it. He equalled McEnroe in bad manners. But, equally, his tantrums were looked forward to by fans. It was therefore interesting to see him in the audience at Roland Garros, last week, especially when some Romanian players, including a 15-year old girl who beat Venus Williams were on the court, cheering them, very much the sedate elder statesman.
As interesting as to see Steffi Graf sitting with her babies in the audience, looking anxious when Andre Agassi was in action. For that matter, Agassi is one of the best character actors on court, ending with blowing kisses to the audience and doing deep bows all round after winning, but blowing only kisses after losing as, alas, he is doing these days.
As against these character actors, there are character actresses too. No one to beat the Williams sisters, Venus and Serena, who flourished during and after the game have to be seen to be believed, with papaji sitting in the audience recording the match on camera, and mamaji watching it through binoculars. The shouts, groans and screams highlighted by Monica Seles, followed by all the present Russian brats is now the norm. And there is Mary Pierce, who plays for time by looking at her shoes, looking at her opponent impatiently waiting for her first serve. Then giving enigmatic smiles when she is losing, while her brother frets in the audience. But there are also the quiet dignified stars, like Borg and Federer, Amritraj and Navratilova who only rarely let out a cry of anguish. And now they have all been outstarred by Rafael Nadal, whom Spaniards now call the second king of Spain. A boy who defeated World No. 1 Federer on his 19th birthday, and how.
Most unfashionably clad in a luminous sleeveless green shirt, old-fashioned three-quarter length trousers which we called pedal-pushers in our youth, long untidy hair wet at the back in sprigs and held together with a bandeau, young Nadal has won hearts as well as finals with his youthful zest, his wild leaps in the air after scoring a point and then lying flat on the court after victory. Yet a sportsman to the core. When a linesman called a fault to one of Federer's serves, he told the impire it was well in the service court and Federer got the point. Looking very serious on the court, Nadal gave a beaming wide smile as he climbed up the gallery to be hugged by his mother and Uncle Toni, who had coached him from the age of three. A fine addition to lively characters on the tennis court down the ages.
But don't forget cricket. Shoaib Akhtar is no mean dramatic artist although one must admit that 91-year old Zohra Sehgal out-acts him in that delightful ad about strong glass.
The real nasty of cricket is also Shahid Afridi whose arrogance and dreadful deeds on and off court have made him notorious, against our dear Aloo's lovable dignity and unflaffability. Kumble is is the quiet bowler, but for melodrama, now a star on the TV screens, who is there to beat Sidhu? I am sure football and hockey have their counterparts, but I shall steer clear because I am a total ignoramus about both sports. But I do enjoy KPS Gill looking inscrutable when facing tricky questions at press conferences.