Food Talk
Beat the heat with nimish
With its cooling properties, nimish is considered more refined than the common kulfi, writes Pushpesh Pant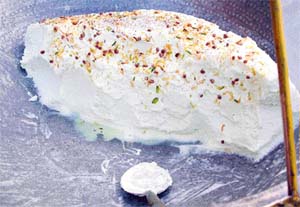 CALL it scorching or blistering, summer calls for drastic measures to restore your cool — and faster the better. And what could be faster than the blink of an eye? The word in Sanskrit for a blink is nimish and ancient astronomers had measured it to perfection — they pronounced this very brief interval in time to be equal to one eighth of a second.
We have long been on the illusive trial of this Indian cooler claimed to be far more refined than the common kulfi. Its many names have added to the mystery. In Lucknow it is nimish, in Kanpur it becomes makkahn malai and Delhiwallahs insist that it is nothing else but their very own daulat ki chaat.
CHEF'S PASSION
Ingredients
Full cream milk (unboiled) 2 litre
Cream 500 ml
Cream of tartar 1 tsp
Powdered sugar 1 cup
Rose water 1 tsp
Pistachio nuts (finely sliced) 2 tbsp
Method
In a bowl mix the full cream milk, cream and cream of tartar, refrigerate overnight. Take the bowl out of the fridge early next day and add 4 tsp powdered sugar and rose water in it. Whisk at high speed. You may use an electric beater for the same. The foam will come on top of the bowl.
Transfer this on a tray. You will require to repeat the process till the entire milk is used. Sprinkle some powdered sugar on top and in between the layers of the foam. This can be shifted into small serving bowls. Sprinkle sliced pistachio nuts on top of each bowl of foam and refrigerate (not in the freezer) till serving time.
But all this became clear when we were given a taste of the real thing in Lucknow sometime back. Researching kebab and pulav in the city a cousin offered to treat us to nimish but she imposed one condition; we must be prepared to lose some sleep — literally — and join her at her Nazarbag residence almost at the crack of the dawn. Or, so it seemed.
We reached grunting and groaning at seven and were greeted with a stern look. Rani told us that the nimish ordered for us was already going flat. We reached hastily for the mitti ka sakora that seemed to be full — by now three fourth full — with yellow froth. A spoonful was enough to make us wide awake.
Nimish sure beat the good-old kulfi (created by a gifted bawarchi for Akbar, according to a foodlore) hands down. It is lighter than air, no soufflé can hold a candle to it; there is just a suggestion of sweetness and it teases the palate with a hint of saffron and only the residual sliver of pistachio tells you that you have not had an encounter with a spirit but imbibed something more substantial. It is not a frozen dessert but has wonderfully potent cooling properties.
The vendor was in true Lakhnawi form and regaled us with the fantastic 'traditional' recipe to make nimish. It dictates that the shabnam (dew) should shed poetic tears over unboiled sweetened and aromatised milk left outside in an earthen pan, preferably on doob grass, overnight under moonlight, before it can be poured to generate delicate froth that should be swiftly collected and consumed. The delicious confection has a lifespan of a blink and ideally must be consumed in a blink.
Good friend Jiggs did persuade someone else during this trip to part with a recipe far less romantic but much more practical. This is what we share with our readers here.