The Bose I knew is a memory now - Lakshmi Sahgal
Shyam Benegalís film on Netaji has triggered a fresh debate on Subhas Chandra Bose. Lakshmi Sahgal, Netajiís former associate and Commander of the INAís Rani Jhansi regiment, was involved in the making of the film. In an exclusive interview with Shahira Naim, she throws new light on the issues that have surfaced again. Excerpts: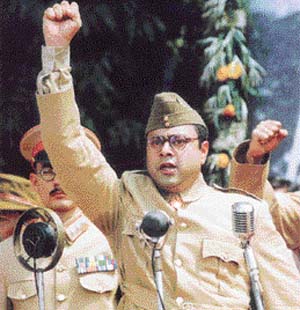 A still from Shyam Benegalís film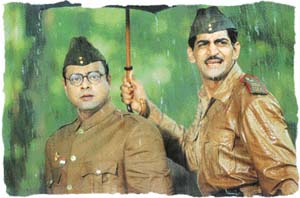 A still from Shyam Benegalís film Bose: The Forgotten Hero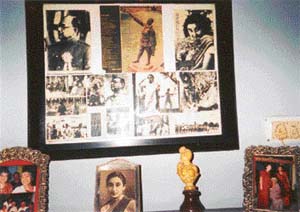 The wall of Sahgalís drawing room is full of INA memorabilia
Ninety years sit light on her shoulders. After a hard day at her dispensery in Kanpur attending to patients, she relaxes in her well-appointed sitting room with her swollen feet immersed in a tub of soothing warm water. Captain Lakshmi Sahgal, once the commander of the all-women Rani Jhansi regiment of the Indian National Army, is visibly excited about the sudden interest in the life of Netaji Subhash Chandra Bose with the release of Shyam Benegalís bio-epic BoseóThe Forgotten Hero.
Yet she has not been able to see the as no theatre in her city has bothered to release the movie in her city, Kanpur. She is planning to find out the reason. She is touchingly felyt to hear that last Sunday, at the jam-packed solitary show running at a single cinema-hall in Lucknow, the audience rose in protest and stopped the show. The show was started 10 minutes before the announced time. In a rare display of assertion of rights, the audience forced the owners to rewind and start the film from the beginning.
The legendary heroine of the INA relives her memories of her association with the Ďnot quite forgotten hero.í The memories are cherishable is evident from the room where she sits. Photographs and newspaper prints of various meetings where she is addressing crowds along with Netaji adorn the walls.
It was in INA that she met her future husband Col P.K. Sahgal. The couple named their first-born Subhashini, a prominent CPM leader in her own right. "My brother used to tease me that I should have named her Subhash Chandra Boseni", she recalls light-heartedly.
Did the researchers or scriptwriters of Shyam Benegalís film get in touch with you?
Yes, Atul Tiwari, the son of one our senior comrades, had come and held several rounds of discussions. When I was in Mumbai, Shama Zaidi contacted me and we had a long meeting. Later, Rajeshwari the actor who plays my character in the film, came and spent a considerable amount of time with me. So, I was involved in a way.
How do you react to some people filing a PIL against the film in the Kolkata High Court against the film for denigrating the memory of Netaji.
Truly, this kind of reaction baffles me. I seriously believe that they are mad. They are doing a great dishonour to the memory of Netaji and the INA. I think this happens because in this country some of us do not distinguish between mythology and history.
They have created Netaji into some sort of a mythic figure to be revered. Anything that does not confirm to their mythical view becomes blasphemas. They are not interested in history at all.
Why this controversy over the depiction of his marriage in the film?
Questioning Netajiís relationship or marriage with Emilie Schenkl is utter nonsense and a great dishonor to Netaji whether it comes from the Forward Bloc or anyone else.
Very few people know that Emilie who was working as a secretarial assistant with Netaji had been asked by the German intelligence to keep an eye on him. Faced with this moral dilemma she had suggested the idea of marriage since under the German law a wifeís evidence could not be used against the husband. So there was a strategic dimension to the marriage.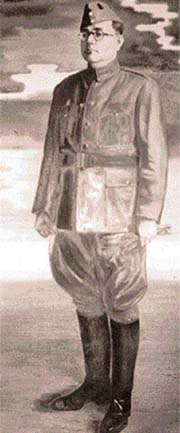 Before leaving Germany, Netaji had written a detailed letter to his elder brother Sharad Babu informing him of the marriage and the birth of his daughter. In fact, after the war Sharad Babu and his family had visited Emilie and their daughter in Germany. The families have kept in close contact. So it is really immaterial what some people say or wish to believe.
It is such thinking that has in fact humiliating Netajiís memory. I remember a horrible incident when his daughter Anita Pfaff first visited India in 1970. It was a function at Kolkata and I was also on the dais. These so-called haters of Netaji booed her calling her an imposter. She was badly shaken.
The welcome that she received in South India when she returned two years later was just the opposite. Members of the INA, mainly defence people, gave her such a raising welcome that she was moved and had promised to return again.
You were a close associate. Did he ever discuss his marriage with you or was it a secret?
See, he was a not a man given to small talk. He was reticent and never discussed such things. Our meetings were strictly official. The times were different we were completely focused at the task at hand and the vision for the future.
Did you ever meet his wife?
Yes I did. When I went to Germany, I had met her and Anita, who is the Head of Department of Economics at a German University. In fact, I had asked Emilie to visit India but she had declined my offer. She mentioned that this was not the India of Subhasís dream. He did not want Partition. She said that he had visualised a truly secular India where religion had no role to play in politics. Yet till the very end, she had kept in close contact with his family.
Netajiís personal secretary during his Thailand sojourn, Santokh Singh Chawla, recently complained that the film ignored his Thailand stay and during Netajiís one and a half year stay in Thailand, Netaji never ever spoke about his marriage.
As I said, Netaji was a reserved person. Even otherwise why should anyone discuss such matters with his personal staff? And not showing Thailand in the film also has its reasons. That country was only used as a base. It did not side with anyone that it is why perhaps it did not figure in the film.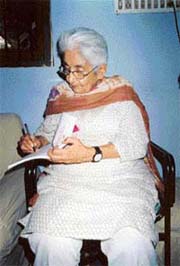 Lakshmi Sahgal in her Kanpur home
Do you recall that fateful day, August 18, 1945?
Well I was not present at the airport that day. I was still in Burma and heard the news over the radio.
Did you believe that he had indeed died in the crash?
Initially, we did not believe it as we had thought it was a decoy and Netaji had escaped. He always maintained that he would never be taken alive. He had approached the Soviet embassy in Tokyo and even as they awaited a response from Moscow, USSR had joined the war against Japan and that was the end of his hope to escape to the Soviet Union. I had felt that he may have managed to escape to Russia and had faked the crash to put the British off his trail. He had done such things earlier and it was completely possible.
When did reality sink in?
It was during the INA trial at Red Fort that I met Habibur Rahman who had been travelling with him in the aircraft and had survived the crash. He confirmed that Netaji had not died in the crash but from the extensive burn injuries that he suffered as a consequence of that crash. Even the Japanese doctor who had treated him had mentioned that there was a tall handsome Indian who had suffered 90 per cent burns and had succumbed to his injuries. At that time, the poor doctor did not known who his special patient was. That is when my INA colleagues and I started to believe that in all probability he was indeed no more.
And as far as the Taiwan governmentís denial of any air crash during that period on its soil is concerned all I can say is that the Japanese had destroyed all records. They did not want one bit of paper to fall into the hands of the Allied forces that could prove as evidence for wartime crimes.
Recently declassified CIA, Russian Armyís and United Kingdomís secret service reports have evidences of spotting Netaji after the crash. It suggests that in 1946, a year after the reported death of Netaji, Joseph Stalin and his cabinet were considering to give refuge to him in Russia.
Well I think it is time we got to the bottom of this controversy. The simplest thing to do is to take his ashes kept at the Renkoji Buddhist Temple in Tokyo and run a DNA match with his daughter. If it is proved that the ashes are indeed of Anitaís father it will settle this mystery for all times to come.
I remember when his nephew the late Sisir Bose had seen the urn at Renkoji Temple he had informed me that it had pieces of bones and even cartilage. This would make the running of the DNA test far easier.
Did you ever believe that he might be living incognito?
Such rumours were part of the building of the myth. Even if Netaji was alive and did not want to return to India after the war ended what was preventing him from living anywhere abroad? Many of his INA colleagues were settled aboard and he could have easily got in touch with any of us.
Again Sisir Bose had personally gone to meet all the babas that were rumoured to be his uncle. As far as Gumnami Baba of Faizabad was concerned, he told me that except for the gold-rimmed glasses there was nothing in common.
There was another baba in some village in rural Bengal who people claimed was Netaji. Sisir Bose wanted to hear him speak. He made four rounds to that village but the baba was always in maun.
Why do you think this controversy was allowed to persist? Why was it not seriously probed?
There were many factors. The most important being the disinterest of Jawaharlal Nehru. He was extremely nervous of anything to do with the INA. Let me narrate just a minor incident. Many years later, Captain Ram Singh who had headed the INA band told my husband that he wished to play for Prime Minister Jawaharlal Nehru.
My husband conveyed this to Nehru who graciously organised a grand function. Many important guests had been invited for the programme that turned out to be a grand success. Many suggested to Nehru that Ram Singhís performance was very inspiring and should be taken around the country to every village. He immediately retorted "Arre phir hame kaun puchega".
Mountbatten had completely brainwashed Nehru about the INA. That is why Nehru was not ready to take them back in the Army. The civilians especially those from South East Asia had a hard time rehabilitating themselves. There was no support whatsoever from the government. Despite the rousing welcome that the INA received from the people of the country, the governmentís response to them remained lukewarm. This has remained the trend with successive Congress governments.
The Japanese are very keen to hand over Netajiís ashes to India but the Indian government cites the possible outbreak of riots in Bengal as the reason for not accepting it. Netajiís daughter in Germany is ready to take it there but the Japanese are not interested in handing them over to Germany.
It was the same mindset that did not allow a thorough probe into this controversy. There have been so many commissions, except for the latest Mukherji Commission none of them ever approached me. Earlier, most of Netajiís senior colleagues were alive and in a position to shed light on the incidents.
After so many years, what do you think were Netajiís most important contributions?
Well one was definitely how he saw women. Terms like womenís empowerment were not in fashion then, but he really believed in it. The Rani Jhansi Regiment was a standing testimony to that conviction.
Netaji also helped us to demolish many myths about ourselves. A strict disciplinarian, he scoffed at the British categorisation of Indians as martial and non-martial races. He said that a soldier was as good as the training he received.