Black is my Best
The Babli of Bunty Aur Babli is working with some of the biggest banners. Rani Mukherjee has a candid conversation with Vickey Lalwani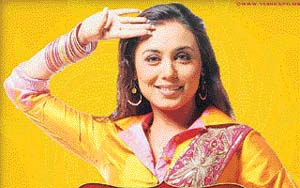 Salute to Rani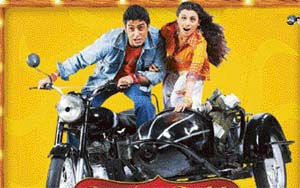 Happy twosome: Abhishek and Rani in Bunty Aur Babli
What is Bunty Aur Babli all about?
Bunty and Babli are two avid dreamers. Together, they team up as spiritual gurus, bureaucrat and secretary, gangster and moll, business partners, hen-pecked husband and pregnant wife, lawyer and sexually harassed client, vagabonds, caught-in-a-downpour lovers and lots, lots more. And they seem to be loving every minute of it. Their escapades play out against backdrops as varied as the Taj Mahal, the banks of the Ganges, the saffrons of Benaras, the browns of Kanpur and Lucknow, the whites of Mussoorie, the tinkling bells of Rishikesh and Hardwar, the skies of Delhi and all across like the network of the great Indian Railways and highways.
What does Amitabh Bachchan play?
Amit Uncle plays Dashrath Singh, Deputy Commissioner of Police, Crime Branch. He has exactly four passions ó bidis, channa, Bunty and Babli. Getting his hands on Bunty and Babli proves to be the biggest challenge of his 30-year career.
Would you call Black the most challenging role of your career?
Till date, as an actor, I confess that I have never before received an opportunity to play a challenging role like the one in Black; it is the best film of my career. It will always remain one of the most special films of my life.
How was it working with Amitabh Bachchan as a co-star in Black?
(Interrupts) I feel humbled. I am just a fledgling in the industry compared to him. Compared to his experience and achievements, I am a baby. Yet, Amit uncle never made me feel that ĎEh, Iím a huge star.í Heís a very modest person, very sweet, a father figure. He is also like a child who wants to give his best shot.
It must have been fun to work with the father and son (Abhishek) together
You can say that again. Both are out of this world. I used to miss Amit uncle whenever I worked with Abhishek solo in Bunty Aur Babli. Vice versa, I used to miss Abhishek when I worked with Amit Uncle in Black.
Rumours are flying thick and fast that you and Abhishek Bachchan are seeing each other.
Abhishek and I are very good friends. I used to boss him around on the sets. He is a cute guy. I hope he finds a good girl to get married to. Our off-screen friendship translates well on screen. Thatís why I guess people are putting two and two together.
What is your next film Paheli all about?
It is the story of a girl Lachchi (Rani Mukherjee) who is married to a man who is only interested in making money. There is a ghost (Shah Rukh Khan) who falls madly in love with her. On the wedding night itself, the husband leaves home for five long years on account of his business. The ghost takes on the husbandís appearance and becomes a part of her life. A few years later, when the husband returns home, the villagers and relatives are bewildered. How this situation gets resolved is the Paheli.
Were you not slated to act in Mira Nairís next film, The Namesake?
I regret that I could not adjust my dates to suit the schedule of Mira Nairís new film based on The Namesake, written by Jhumpa Lahiri. I found Mira to be very much like me. It would have been my first ever film with a woman director. I suppose I wasnít destined to act in her film.
The year 2004 and now 2005 have been decisive for you, havenít they?
Iím glad people are finally recognising me. For too long, people who loved me felt dejected when at every awards function I would give away awards. Now I am finally getting them. Now, the media is acknowledging my hard work. I am being rewarded in a very big way. More than me, itís my family that is excited. ó TWF