M A I N N E W S
15 dead, 90 hurt in Pulwama blast
Tribune News Service and agencies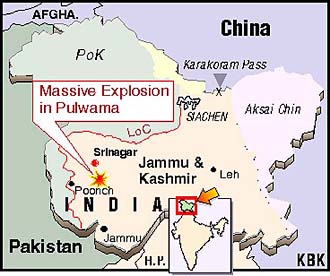 Srinagar, June 13
A powerful explosion rocked Pulwama in South Kashmir today, killing at least 15 persons and injuring over 90 others, many of them seriously. Many shops, houses and vehicles were damaged in the explosion. Those killed included three CRPF personnel, including a Commandant, and two students. More than 10 students were among the injured in the explosion.
Tension gripped Pulwama town soon after the explosion, where a large number of persons took to the streets, protesting against the police and civil administration. The protesters held that the official claim of the explosion having been caused a car having RDX was wrong and no senior officials reached the spot even after an hour of the explosion. The police fired in the air to quell the demonstrators and had to lob teargas shells to bring the situation under control. More than 10 protesters were injured in clash with the police.
The Director-General of Police, Mr Gopal Sharma and other senior police and civil administration officials rushed to the spot to take stock of the situation. The IG Police, Mr Javed Makhdoomi, said that 15 shops were damaged in the explosion, which took place at around 11.30 a.m. He said the explosion took place in a car carrying RDX. However, the immediate cause of the explosion was not yet known. The explosion took place in a busy market place in the vicinity of a high school, State Bank of India, CRPF 68 bn camp, post office and a shopping complex.
No militant organisation has claimed responsibility for the attack which came a day after Prime Minister Manmohan Singh's visit to Jammu and Kashmir which took him to Kargil, Leh and Siachen. This is the third such incident of high magnitude during the past one month.
At least three persons were killed and several others injured in a car bomb explosion at Jawahar Nagar early last month. Two women were killed and about 50 others were injured, including 30 students of a local school, in another grenade explosion in the Lal Chowk area later.
In today's explosion, at least nine persons, most of them civilians died on the spot while five others succumbed to their injuries in various hospitals here. The CRPF men killed were identified as P.R.V. Prasad, Amba Rao and J.D.R. Kumar. Of the injured, 42 have been admitted in the SMHS hospital, eight in the SKIMS, Soura, five in the Bone and Joints Hospital here.
Nine others were admitted to Pulwama district hospital, while one was being treated at Pampore hospital.