Recipe for growth

Catering or serving food to people is an important part of the multi-disciplinary hospitality industry. And at the heart of all catering operations is the chef. It is the chef who holds the recipe for the success of an eatery or a catering business.

To become a chef one can opt for a three-year degree course after plus two after clearing the entrance examination for any one of the 24 Ministry of Tourism-run IHM institutions all over India. Besides this, there are several reputed private organisations like the Welcom Group Graduate School of Hotel Management, Manipal, the Oberoi Centre of Learning and Development, New Delhi, and other institutions that impart training in this field.

Course clues

Then, one can also go in for a one-year craft course in food production in 45 government institutions, spread all over the country, after Class X. But to appear for a personality interview for the course, a minimum of 50 per cent marks in matriculation are a must.

"For the degree course, an entrance exam is conducted by our apex body, the National Council of Hotel Management and Catering Technology (NCHMCT), in April every year," says D.D. Sharma, Vice-Principal of the Institute of Hotel Management, Catering Technology and Applied Nutrition, New Delhi.

Skill setThe course curriculum is largely 40 per cent theoretical and 60 per cent skill- based. While certain traits like love for cooking and a desire to serve people are inherent, others have to be developed. For example, staying power is an essential requirement as a lot of physical work is required for the job, in which one might have to slice 50 kg of onions or lift an equal quantity of food material. Besides this, one has to have a flair for experimenting with ingredients, and an ability to be creative and imaginative.

After the degree, one can enter the hospitality industry as a Kitchen Management Trainee (KMT) or Chef de Partie (CDP), bypassing the initial three Commi levels and straightway joining at the supervisory level.

Specialised slotsMost five-star hotels train all new entries, whether at the KMT, CDP or HOT (Hotel Operational Trainee) level, for at least two years, as per their kitchens requirements and their system of working.

It is important to select the area of specialization that you're interested in. Essentially, there are three areas of specialisation for a chef: cold kitchen, hot kitchen and bakery and confectionary. The cold kitchen comprises salads, cold meat, butter sculpture, vegetables and fruit carvings done with hand. The hot kitchen area consists of gravies, tandoor, roasting, grilling and sauces. Bakery and confectionary includes pastries, cookies, etc.

Career graphA fresher starts at the Commi 3 level, the next promotion is Commi 2 followed by Commi 1. the next stages are as Demi-Chef-de-Partie, Chef-de-Partie, Sous (Deputy) Chef, Executive Sous Chef and Executive Chef.

Without undermining woman power, the fact still remains that a majority of great chefs the world over are males. Among the top Indians in this field are Chef Sanjeev Kapoor, who has become a household name.

One reason why men make better chefs than women is that catering and the job of a chef is a rather labour-intensive and involves a lot of physical work.

"It is different to slice one onion and chopping 50 kg," says Sharma.

"It is not to say that women do not make good chefs," he says, quoting the example of Chef Manisha Bhasin. "But it is also a fact that more than 75 per cent professionals in this field are males, since the volume of work is so much that it requires loads of physical endurance and stamina," he adds.

Money matters Pay scales vary from place to place and while an apprentice, straight out of school and without any training or experience, may earn between Rs 1,000 to Rs 2,000, a Sous Chef can take home a pay packet in the range of Rs 50,000 to Rs 60,000 and an Executive Chef anything between Rs 1 lakh and Rs 2 lakh.

Though the sky is the limit, one also has to be mentally prepared for hard work as the road to becoming an executive chef is long and arduous.

"Depending upon the kind of establishment,a

graduate in a five-star hotel can hope to start at Rs 12,000 per month as a KMT or CDP. A non-graduate who joins as a Hotel Operational Trainee (HOT) at the Commi 3 level can get a start of Rs 6,000 to Rs 8,000," Sharma says.

Placement prospects

Thanks to tourism hitting the high-growth road, with people traveling more, higher disposable incomes and a demand for greater quality and quantity of service, there is a boom in the hospitality industry, which translates into more opportunities for aspiring chefs.

While there are sufficient jobs in hotels, restaurants, cruise liners, air catering, food processing companies, confectioneries, corporate catering etc, one can also become an entrepreneur and set up an independent business or become a food writer.

Another option is to study further and go in for a two-year post graduation in any one of the IHM institutions in Delhi, Mumbai and Bangalore and join as the faculty member in a government or the large number of private institutions.

Options overseasAnother good news is that Indian chefs are lately much in demand in countries like the USA, Australia and Canada. Says Sharma "There is lot of demand for trained manpower from top restaurants in foreign countries, that are adding Indian cuisine to their list of specialities." This growing popularity of Indian cuisine arises from the fact that a large number of Indians that have settled abroad.

"Our bakery chefs and Gar-de-Manger chefs are in great demand abroad," informs Sharma.

So, go for your pick and happy cooking!

Khana has khazana of prospects
Vibha Sharma

Master Chef Sanjeev Kapoor really needs no introduction. The 40-year-old chef, a celebrity in his own right, has been hosting the TV show 'Khana Khazana', that has aired 600 episodes since 1993, is the author of eight best-selling cookbooks, a restaurant consultant and winner of several culinary awards.

Receiver of the Best Executive Chef Of India award by the H & FS magazine and the Mercury Gold Award by the Inter Flight Catering Association at Geneva, he has established upmarket restaurants in the country and abroad. Sanjeev Kapoor's Khazana at Al Nasr Leisureland in Dubai, UAE, has been adjudged the Best Indian Restaurant. At home, the Yellow Chilli restaurants in Ludhiana, Jalandhar and Amritsar, Delhi, Noida, Panchkula and Faridabad are running under his consultancy.

Here, Kapoor talks about job opportunities in a field he is most passionate about— catering and cookery.

What are the`A0job prospects for youngsters wanting to take up a career in catering, both in India and abroad?

Catering is no different from any other career. Anyone with

the aptitude can go in for it. It is a pity that the dropout rate in this line is around 50 per cent, but this can be avoided if you know what is in store for you.

What is the present scenario and future prospects?

As of now, the catering industry is witnessing a boom, with a 20 to 25 per cent growth rate per annum. This is directly related to the general boom in the economies the world over. There is overall development and purchasing power, exposure to the global market and also travel, both business and leisure, has increased manifold. Owing to the travel industry's growth in leaps and bounds, people are more aware of different cuisines, they are eating out more. This field is growing, shining`85and opportunity is knocking on the door like never before.

What kind of temperament is needed to pursue catering?

Anybody who has the aptitude, is cool and adapting, knows the kind of hard work that is involved and can be on his feet, day in and day out. When others are celebrating Divali or Dasehra, most probably you will be slaving over the cooking range. It is a labour-oriented industry and people-oriented too, you will have to learn how to take work from people and always present yourself with a smile. That's hospitality.

Has the profession attained respectability now? And has your celebrity status`A0 brought glamour to this line?

Yes, the profession has attained respectability. Earlier in matrimonial columns we only used to see doctors, lawyers and engineers but now hotel management graduates also feature there. As far as my role is concerned, I cannot categorically say that I have made any contribution. But on all platforms, I have been discussing all the aspects of this career, particularly for newcomers. I am asked the question that why are there more men than women in this profession? Well, it is a rather tough job with tough hours even though it might look glamorous on the surface. One has to work in unfriendly conditions, lift heavy stuff etc. and sacrifice a lot on the family front. I guess many women cannot take the strain of the job and its adverse pressure on family life, hence they do not joint the ranks.

How much can a newcomer hope to earn?

Any newcomer will have two options — if he is brilliant and bright and gets in as a management trainee the start will be around Rs10,000 while others, who form the majority, join at the operational level with salaries as low as Rs 3,000 to Rs5,000. As far as climbing up the ladder is concerned, there is no limit and in this particular career you can rise to the top in no time. I had become the Executive Chef of a five-star hotel when I was 27. By the time I was 30, I was on my own after seeing every stage of the career.

What is the mantra of success if one wants`A0to start a restaurant?

Educate yourself if possible, otherwise get an educated manager.

Learn at somebody else's cost`85work for at least a year or two, then think about opening your own restaurant.

Have the best people around and pay them well.

Delegate work and enjoy the business.

What're your future plans and advice to aspiring chefs?

I have a lot of plans to grow in my business and make Indian food the number one in the world. I will also be writing a book for the international market.

My advice is —work hard, have a deep knowledge of the subject, give respect to the career you have opted for. Be ambitious but do the right things.

Training talk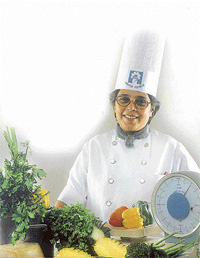 Chef Nita Nagaraj
Some leading institutes in India:
Institute of Hotel Mgt , Rauza Bagh Aurangabad 431001 (run by Maulana Azad Educational Trust in collab. with Taj Hotels, Resorts & Palaces); Course: Diploma in Culinary Arts & Kitchen Administration (3-yr) Eligibility: Class XII.

National Council of Hotel Mgt & Catering Technology (NCHMCT), Library Avenue Pusa, N. Delhi (www.nchmct.org), 24 institutes; Courses: 3-year BSc degree in Hospitality & Hotel Admin; 2-yr Craft Course in Food Production; 28-week Craft Course in F&B; 21-week Certificate Course in Hotel & Catering Management. Eligibility: Class XII.

Food Craft Institutes — Aligarh, Alwaye, Bangalore, Chandigarh, Darjeeling, Delhi, Faridabad, Gangtok, Patna, Pondichery, Pune, Tiruchapalli, Udaipur, Visakhapatnam; Course: 6-18 month Diploma in Culinary Education.

Oberoi Centre for Learning & Development , 7 Sham Nath Marg, New Delhi-110054; Course: 3-year Sr. Kitchen Training Programme. Eligibility: Graduates from any hotel management school.

Academy of Culinary Education (ACE), Cidade de Goa, Vainguinim Beach, Goa-403004. Website: www.fomento.com/ace.htm; Course: 3-year Diploma in Catering Technology.

For more details log on to the website: nchmct.com.in.
This list is not exhaustive