Smart Skills
Choices you can count on
Usha Albuquerque


Uusha Albuquerque
The road to success need not necessarily be paved with an MBA degree. There are other equally successful choices one can consider. Among them, the study of commerce, that includes subjects like accounting, statistics and economics, is often selected by students for the doors it opens to a wide variety of career options.
The study of commerce and economics provides a springboard for work opportunities in a range of financial services, banking, business and industry, management and entrepreneurial ventures, as also in law, hotel management and government services.
Commerce in the financial sector: A decade ago, the Chartered Accountancy qualification was considered the only option for commerce students to enter the financial sector. Today, while a CA is still a coveted career, commerce students can also try for jobs as financial analysts, cost and work accountants, bankers, various financial services in banking and non-banking services, tax consultancy, stock broking, financial management and many other related jobs that are being continuously created in this area.
A bankable option
Some careers in the financial sector include: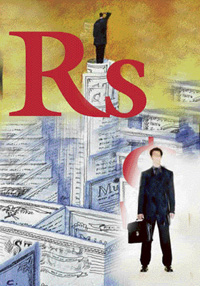 Banking: Other than taking care of people's savings; financing projects; and extending loans and credit services, banks have also diversified their activities into a range of corporate and personal financial services, and non-banking financial services including housing finance, leasing and hire purchasing. Moreover, with the increasing entry of foreign banks and their aggressive marketing, job opportunities have grown significantly.
For nationalised banks, most of the selection is done through the Bank Probationary Officers exam conducted by the UPSC at an All-India level.
Most foreign banks prefer MBAs or professionals in accountancy, finance experts and economists with post-graduate qualifications.
Chartered Financial Analysts provide expertise in the area of management accounting as also a range of financial services, covering project planning, merchant banking services, portfolio management, venture capital, leasing, hire purchase, new issue management, credit rating and other allied areas.
The CFA course is a PG programme conducted through postal tuition, and admission is on the basis of an entrance test. The Institute of Chartered Financial Analysts of India (ICFAI), Banjara Hills, Road No 3, Hyderabad, with branches in different cities, is the premier institution for this programme. Some business management institutes also offer this course.
Costs and Works Accountants monitor all costs involved in making a product or providing a service, from raw materials and labour to administrative costs and overheads. In other words, the cost accountant collects, collates, and interprets data relating to the organisation's business activities and converts them into money terms, thereby guiding managerial decisions and enabling the organisation to maximise profits.
The Institute of Cost and Works Accountants of India (ICWAI), ICWAI Bhawan, 3, Institutional Area, Lodhi Road, New Delhi- 110 003 provides training in this area to students who have completed plus two. Graduatess are exempt from doing the foundation course. ICWAI has several branches all over the country.
Take stock of future
Stocks and Securities: As the Indian stock market goes global this is another area which provides ample opportunities for those with a financial bent of mind, and information management skills, as all trading is now computerised. A degree in Commerce/Economics is required to be eligible for the postgraduate course in Stocks & Securities.
Financial Planning is yet another professional opportunity for commerce graduates and required mainly in the financial services sectors of Banking, Insurance and Investment Advisory Services.
The International College of Financial Planning, 5th floor, Bajaj House, 97, Nehru Place, New Delhi (with branches in Mumbai; Chennai; Kolkata; Bangalore; and Hyderabad) provides training in Certified Financial Planning. The Institute of Financial and Investment Planning, MV Road, Andheri (East), Mumbai, offers a diploma course in Financial and Investment Planning.
Business Finance is another specialisation in finance, which includes aspects not just of conventional auditing and accounting, but also a vast range of activities like fund raising, foreign exchange, treasury management, investment banking, money market operations and stock broking.
The Department of Financial Studies, University of Delhi, and Punjabi University, Patiala, and Aligarh Muslim University offer a Masters degree in Finance and Control (MFC) essentially to commerce/ economics graduates. Several universities offer PG courses in financial management.
Economics' viability
Commerce in the non-financial sector: There are a host of opportunities for commerce students in a multitude of careers in the non-financial sector.
The most sought after however, still remains the evergreen MBA. Whatever the area of work, business managers with their specialised knowledge of business and industry, and of financial and economic policy will always be at a premium.
Commerce and economics graduates can also join the Civil Services or, in particular, the Indian Economic Service / Indian Statistical Service. The Union Public Service Commission (UPSC) conducts the entrance exam to these services in November every year.
One of the most promising avenues for commerce students is Insurance With increased business activity and the entry of foreign insurance companies, insurance offers lucrative opportunities for commerce students with appropriate knowledge and training. Universities and private institutes offers graduation in actuarial science and insurance. The Actuarial Society of India conducts a qualifying exam, while some institutes now also offer training in risk and insurance management
Company Secretary is another area worth looking at, as every company requires to have a Company Secretary who ensures the efficient management of the organisation. The Institute of Company Secretaries of India (ICSI), New Delhi conducts training for the course of Company Secretary through postal tuition. It has four regional offices at Kolkata, Delhi, Chennai and Mumbai and several chapters located in various cities. You can join the course after 10+2 with any subject. However, if you are a graduate, you can directly enroll for the intermediate examination.
Which ever way the global winds of change move, with the increasing focus on business and profit, trade and investment, collaborations and joint ventures, most careers in commerce should reap rich dividends.
The writer is a noted career expert
Training talk
Some prominent courses in this field are:
Capital Markets/Stock Market Studies
lThe Mumbai Stock Exchange Trading Institute, Bombay Stock Exchange, Mumbai.
lInstitute of Capital Market Development, Karol Bagh, New Delhi.
lJDC Bytco Institute of Management Studies and Research, Nasik.
lPune University, Ganesh Khind, Pune.
lInstitute of Financial & Investment Planning, Mumbai.
Banking
lAligarh Muslim University
lIndian Merchants' Chambers, Churchgate, Mumbai.
lNational School of Banking, Pune.
lIndian Institute of Bankers, University of Mumbai.
lSNDT Women's University, Marine Lines, Mumbai.
lPVDT College of Education for Women, Mumbai
Finance
Masters in Finance Control/ Business Finance can be studied from:
lDepartment of Financial Studies, University of Delhi (South Campus),
lUniversity of Lucknow
lIndian Institute of Finance (IIF), Ashok Vihar (Phase II), New Delhi;
lAligarh Muslim University, Aligarh.
Insurance
lKurukshetra University
lUniversity of Delhi
lAligarh Muslim University
lUniversity of Bombay
The list is not exhaustive
Note the quote