PUNJAB

HARYANA

JAMMU & KASHMIR

HIMACHAL

REGIONAL BRIEFS

NATION

OPINIONS

MAILBAG

BUSINESS

SPORTS

WORLD
Friday, June 17, 2005, Chandigarh, India
Updated at 3:00 am (IST)

Cabinet nod for dual citizenship
New Delhi, June 16
The Union Cabinet today gave its approval for amending the Citizenship Act 1955. This would pave the way for granting dual citizenship to persons of Indian origin who migrated to other countries after January 26, 1950. The amendments will allow the Ministry of Overseas Indians to issue notifications under Section 7B (1) of the Citizenship Act, 1955, and issue smart cards to registered overseas citizens of India.


CAST YOUR VOTE
Is the government taking steps for tackling the groundwater depletion?


FORUM

EDUCATION

JOBS & CAREERS

HEALTH & FITNESS

SCIENCE & TECHNOLOGY

SPORTS

SOCIETY

TRIBUNE CLASSIFIEDS

BRIDES WANTED

GROOMS WANTED

OTHERS

HOW TO PLACE ADVTS
Govt defers hike in petrol, diesel prices
New Delhi, June 16
The government today deferred its decision to hike the oil prices even as the world oil prices crossed the $55 per barrel mark despite OPEC's decision to raise its official production ceiling.


In video (28k, 56k)
Vajpayee writes to PM
Says Indo-Pak peace process Kashmir-centric
New Delhi, June 16
Former Prime Minister Atal Behari Vajpayee has accused the Congress-led UPA Government of making the Indo-Pak peace process "Kashmir-centric" and thus allowing Pakistan to slip out of its earlier commitment to India.



J&K page: Hurriyat leaders return to low-key reception
Rashid yet to give name for bus travel
New Delhi, June 16
Pakistan Information Minister Sheikh Rashid has not given his name so far for clearance by Indian authorities for travelling to Jammu and Kashmir by the
Srinagar-Muzaffarabad bus on June 30, official sources said here today.
Cong does damage control on Sonia visit
New Delhi, June 16
After the BJP raised a furore over Congress President Sonia Gandhi's Russia visit, the Congress today went into damage control mode as it aggressively rubbished all Opposition charges.

FORUM
Our feature, Forum, provides our readers with an opportunity to express their views on some of the vital issues facing the country. The new question being posed is:
What should be done to reform the examination system?
Readers are invited to send their letters, not more than 150 words, to:
The Editor-in-Chief, The Tribune, Sector 29-C, Chandigarh, with 'Forum' superscribed on the envelope. The answers can also be e-mailed to:
[email protected]
H.K. Dua, Editor-in-Chief

QUOTE OF THE DAY
But no, they go to Pakistan, repeat every statement made by Gen Musharraf, and then condescend to say that they would go to Delhi as well.
— Atal Bihari Vajpayee

THE TRIBUNE MAGAZINES
On Sundays

On Saturdays

---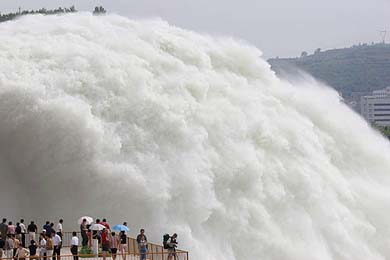 People gather on a platform to watch as water from the Xiaolangdi Reservoir is released into the Yellow River, in Xiaolangdi, central China's Henan province, on Thursday. The annual event happens in order to rid the reservoir of excessive sand. — AFP photo

---

Facsimile editions of foreign dailies okayed
New Delhi, June 16
While retaining the foreign direct investment ceiling of 26 per cent, the Manmohan Singh government today took key decisions pertaining to the newspaper industry in this country whereby investments by NRIs, overseas Corporate Bodies, Persons of Indian Origin and portfolio investments by recognised Foreign Institutional Investors have been permitted in the print media.
Canadian diplomat, family rescued
Dharamsala, June 16
"It was a miraculous escape," said a Canadian diplomat, Mr Adrian Norfolk, who was today rescued from the Indrahar Pass where he had got stuck along with his family yesterday during a trekking expedition.



Depleting glaciers worry Centre
Chandigarh, June 16
Glaciers in the Himalayas, especially in Himachal Pradesh, Uttaranchal, Nepal and Bhutan, are depleting at an alarming rate causing serious concern among the authorities at the Centre. Dr J.S. Samra
In Science & Technology today
In Jalandhar Plus today


Be impartial, PM tells Governors
June 16, 2005
Punjab hikes power tariff by 10.27 pc
June 15, 2005
15 dead, 90 hurt in Pulwama blast
June 14, 2005
Let Siachen be a peace mountain: PM
June 13, 2005
A world first in N-power programme
June 12, 2005
Storm wreaks havoc
June 11, 2005
Advani isolated
June 10, 2005
BJP board rejects Advani's resignation
June 9, 2005
Advani quits, but partymen say no
June 8, 2005
Punjab PMT cancelled
June 7, 2005