'Silsilay' is all about woman power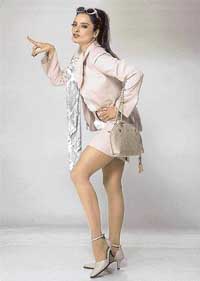 Rekha in 'Bachke Rehna Re Baba'

Producer Vaashu Bhagnani's film always create excitement and his new multi-starrer "Silsilay - What Women Really Want", should be no exception. It is directed by critic-turned director Khalid Mohammed who is said to be a sensitive director. "Silsilay" is about woman power and has been produced by Bhagnani under the banner of Puja films. The film opens today at Fun Republic and K.C. Panchkula.
Bhumika Chawla ("Tere Naam" fame) stars opposite Rahul Bose who is also doing a commercial film after "Takshak". Tabu, Kay Kay Menon, Riya Sen, Celina Jaitley, Jimmy Shergil, Ashmit Patel, Divya Dutta and Nataasha play important roles.
Khalid Mohammed deals with women-oriented subject in his films and "Silsilay" is also all about the power of women. It narrates the story of three women. It takes an entertaining look at relationships. Sameer has penned the lyrics. Himesh Reshammiya's musical score is pleasant but with a lot of deja vu. Alisha Chinai, Jolly Mukherjee, Jayesh Gandhi impresses in song "Tere Liye Meri...".
* * *
Govind Menon's whose "Kis Kis Ki Kismat" failed miserably at the box office is back with "Bachke Rehne Re Baba". The film stars sex symbols Mallika Sherawat and Rekha. Both joins hands for the first time in a sex comedy. Paresh Rawal also stars in another super comedy. Boney Kapoor, Vijay Galani and Rahul Sughand have produced this film under the banner of Glamour Entertainment Pvt Ltd and Film Folks. Shot widely on the beautiful beaches of Mauritius, "Bachke Rehna Re Baba" is promising. Sayed Quadri, Farhad, Dev Kohli and Anu Malik have penned the lyrics. Anu Malik has once again struck gold after the musical success of "Murder".
"Bachke Rehna Re Baba" will be released today at Nirman, Chandigarh, and K.C., Panchkula.
— DP