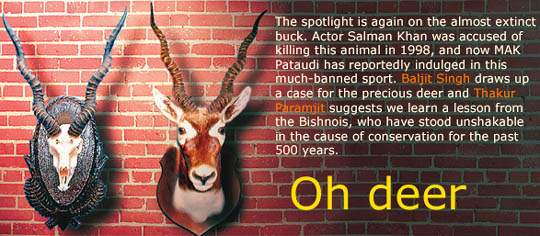 Passing the Buck. This was the title of a 30-minute documentary which I saw in 1985. The film opens to the soft strains of Ravi Shankar's sitar as a prelude to a dramatic sunrise. The sky was awash with shades of pink, flaming orange and pearl-gray moments. As the orb ascended and grew larger, in its centre appeared a black dot. The dot came closer and grew bigger till it attained the profile of an aircraft. On the tarmac of an airfield somewhere in Pakistan, this huge US military cargo aircraft taxied to a halt close to a posse of sombre bureaucrats. As the cargo of six large wooden crates touched the soil of Pakistan, Ravi Shankar's sitar strains lifted to a soul-stirring crescendo. Six pairs of black buck had arrived from Texas, USA, to reclaim the home of their forbears.
For once, passing the buck was not a mere idiom but a real-life happening to re-establish the species in Pakistan. Ravi Shankar was so saddened by the extinction that he especially composed the music for the film. He wanted to spread the message of compassion for wildlife. When watching the film, it never crossed my mind that just two decades later, a Cambridge-educated Indian from a cultured family would join rich friends to hunt a black buck and two rabbits when our law does not permit so.
Black buck is endemic to the Indian subcontinent alone, that is it is not found anywhere else in the world. However, back in the 1960s the US Department of Fish and Wildlife had launched a programme to introduce selected "game" birds and mammals to the USA from other continents. Black buck, blue bull, chikor, kaleej pheasant and black partridge were shortlisted for introduction from the Indian subcontinent.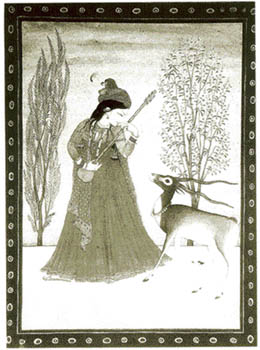 'Princess with a Black Buck'. Pahari miniature, circa 1800
Happily, all of them are flourishing there as exotics normally do. The idea was not to create a living gene-pool but where Pakistan is concerned that is precisely what it came to mean for the black buck. If we in India remain complacent about poaching, one day we too may face the sad situation faced by Pakistan. Birds and animals have been a part of our mythology, folklore, epics and literature since time immemorial. The Mughal court patronised the use of birds and animals as essential elements in the composition of landscapes and portraiture. The painters of the Rajputana and Pahari Schools also used animals and birds freely in their creations. Take, for instance, the book Flora and Fauna in Mughal Art (Marg Publication, 1999). Its jacket is adorned by a magnificent portrait of a black buck (circa 1610-20 from the Metropolitan Museum of Art, New York). Among my favourites in this book is the depiction of "King Solomon's Court", attributed to Madhu Khanazad (circa 1600, collection of the Aga Khan). Solomon, seated on his throne, supervises the feeding of birds and animals of all imaginable species gathered around him. There is a line of servants bringing trays heaped with food. The two rabbits in the front are flanked by a pair of black buck. The very same animal was allegedly killed recently by M.A.K. Pataudi and his friends.
In another Marg publication, Painters of the Pahari Schools (1998), there is a creation titled "Princess with a Black Buck" (attributed to Chhajju of Chamba, circa 1800). The princess is the epitome of refined beauty. She plays a stringed instrument for the benefit of her pet, a well-groomed black buck. The black buck's look of adoration of his mistress is simply mesmerising. It is unthinkable that anyone would hunt such a delicate animal; surely not Pataudi, who comes from a family which had espoused the unwritten code of ethics of field-sports.
But the beauty lines and grace of the black buck and the doe are on best display during the mating season. The doe gather in small exclusive groups. One male establishes dominance by driving all other suitors away, then shows off his prowess to the ladies of his harem. He parades before them with a look of playful arrogance, his head thrown back till the tips of his long, grooved horns touch the tail region. The next moment he may break into a 100-metre sprint, clocking 40-60 kmph. That display over, and he struts back on a smooth trot. Next, he may want to display his agility by leaping 4 to 6 feet in the air while circling on a fast trot around, by now, his admiring harem.
And what of the rabbits. You have to be lucky to chance upon them on a full moon's night; they will put up mock fights or play hide and seek or simply gambol about as though in a trance. It is a show fit for the gods.
You may not have seen the Taj in moonlight nor the sunrise over the Nanda Devi massif but if you have seen the black buck entertain his harem and the rabbits in a "trance", yours will be a fulfilled life. How can anyone with a modicum of humanity snuff out such innocent lives? If the laws of our land can be compromised by the likes of Pataudi, it is time to close ranks and ostracise such people from society for ever, as natural justice.

The buck stops right here or not at all. — B.S.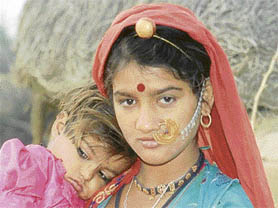 A traditional Bishnoi woman. Bishnois hold the black buck to be sacred and zealously protect wildlife.
The recent recovery of a black buck and two rabbits from the car of former Indian cricket captain Mansoor Ali Khan Pataudi has once again focused attention on hunting and poaching. The law or government alone cannot fight this menace. The public in general has to gear up and join hands with the government and other nature conservation agencies to curb it. In this context, the Bishnoi community, which has relentlessly pursued the cause of conservation for the past 500 years, has set a laudable example.
Five hundred years ago, the seeds of a unique conservation movement were sown when Guru Jambheshwar launched a new faith, known as Bishnoi. Five centuries have since lapsed but these remarkable people still conserve flora and fauna in their area with fervent zeal. Be it the black buck or the spotted deer, the Great Indian Bustard or the partridge, all enjoy life in a fearless environment around Bishnoi villages. No hunter or poacher dares to enter their domain, as this community — which fiercely protects wildlife — would avenge the killing of a deer by killing the hunter. (Remember the episode involving Salman Khan and top heroines of Bollywood? He was lucky to escape the fury of the Bishnois).
There are a number of stories on Bishnois' sacrifices for the protection of wildlife and forests. One of them goes like this. About three centuries ago, Maharaja Ajit Singh of Marwar (now Jodhpur) was getting his palace constructed. Since firewood was needed for kilns, his minister ordered the workers to cut trees. To save the largest grove near their village, Bishnois put up strong resistance. The minister, however, ordered his men to start cutting the trees. Amrita Devi, a brave Bishnoi woman, declared that she would not let the men fell the trees at any cost. She, along with her daughters, clung to the trees. The furious minister ordered his men to hack the women along with the trees. Their sacrifice enraged the other members of the community, and each of them clung to a tree. Consequently, within a short time, as many as 363 people laid down their lives for a noble cause, setting an unparalleled example of supreme sacrifice to save environment. This sent shock waves in the region, and the horrified king rushed to the spot. He apologised to the Bishnois and promised that in future their religious sentiments would always be respected.
Bishnoi faith has 29 basic principles (Bish stands for twenty and noi nine). The central principles of the doctrine are "reverence for all forms of life" and "protection and preservation of trees and wildlife". The other principles aim at inculcating noble habits and good behaviour; physical, mental and spiritual development; abstinence from liquor, drugs and meat; keeping clean and tidy; drinking filtered water and milk; and giving women proper rest and nourishment during menstruation and pregnancy.
Bishnoi villages are scattered in Rajasthan and in parts of Haryana bordering Rajasthan. Ram Narain of Dhaulia village says, "We do not seek funds or favour from the government for conservation purposes. This spirit is inculcated in us right from our birth since it is the very essence of our faith." "We do not rear goat or sheep as ultimately we would have to sell them to butchers. This would violate our principle of respect for all kinds of life — whether trees or animals," adds Sada Nand, another villager.
Talking of conservation while sitting in air-conditioned offices is one thing and effectively giving it a practical shape is an altogether different thing. And that, too, without any outside support. Here Bishnois prove that they are a class apart. In spite of severe hardships – lack of water and medical facilities, onslaught of famine, lack of education and employment opportunities — these brave people have stuck to their principles. — T.P.