Grass with class
Wimbledonís irresistible appeal sets it apart from other Grand Slam tennis events, writes M.S. Unnikrishnan
Roger Federer and Maria Sharapova would be looking to retain their titles when the 119th edition of the Wimbledon, now known as The Championship, begins at the All-England Club grasscourts on June 20.


Master stroke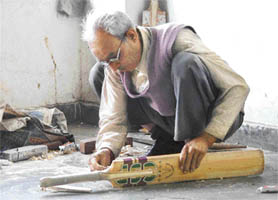 An artisan works diligently on a cricket bat in Shimla. ó Photo by Anil Dayal
IN THE NEWS
Leon ranger
Viswanathan Anand surely enjoys playing in Leon. Returning to the Spanish city after three years, the 35-year-old Anand won the rapid chess tournament with a hard-fought victory over world champion Rustam Kasimdzhanov. Down 0-1, the Indian held his nerve to beat the Uzbek 2.5-1.5.
Ignoble exit
James Lawton
Itís over, officially, irreparably and redeemed only to a small degree by the honesty of the epitaph Mike Tyson wrote for himself. "I donít have the guts to go on embarrassing this great sport any more," he declared after quitting on his stool at the end of the sixth round against Kevin McBride ó an opponent he had a few days earlier placed among the lowest order of boxing life.


Clueless in Kuala Lumpur
County experience