Television
Archaic show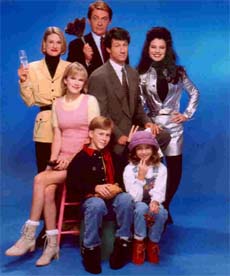 The Nanny: Old is not always gold
Indian television is going through a phase where any old stuff is passed off as "family entertainment". Take Hallmark Channel, for example. In its misplaced effort to woo viewers, it has started airing a comedy, The Nanny, which is over a decade old.
The "new" show, which went on air this month, premiered in USA in 1993 and is the archaic story of a door-to-door cosmetics saleswoman (Fran Drescher) who finds an alternate career as a nanny in a wealthy household. She soon becomes an indispensable member of the family, taking up the task of bringing the disconnected kin together.
Though one must credit Hallmark for keeping its USP of home entertainment in sight and moving away from the sob-soap saga, the channel needs to think in terms of original and innovative offerings to grab a share of the as yet elusive TRPs.



Wizard revisited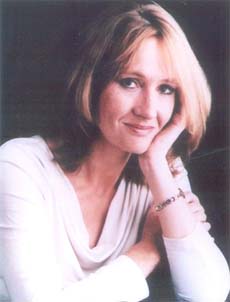 J.K. Rowling: Magical storyteller
Seven years ago, an unemployed single mother spent her afternoons writing in an Edinburgh coffee shop while her baby slept. Her name, which would soon become synonymous with every literary event for children in the world, was J K Rowling.
In an inspired series titled Imagination to be aired on June 25 at 5.40 pm, BBC World takes a peek into the world of the wizard who created Harry Potter. Her first book, Harry Potter And The Philosopher's Stone, began a phenomenon that has broken all publishing records. More than a 100 million copies of the first four Potter books have been sold worldwide in 47 languages and only the Bible has more translations.
Calling her work as one of the most influential pieces of art, BBC exclusively chats with J. K. Rowling about the birth of the wizard, inspirations from the past and her plan's for Harry's future.
Don't miss the magical series as Rowling takes the cameras to her old street in Winterbourne, just outside Bristol, where the real Potters lived, and introduces her "foul-weather friend" Sean Harris, on whom Harry's best buddy, Ron Weasley, is modelled.
The right mix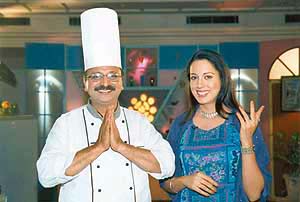 Lip-smacking fare on Pakwaan
IT'S the war of gastronomes. In a bid to counter the iconic success of Sanjeev Kapoor's Khana Khazana, sometime back Doordarshan decided to shift away from its drab programming and add some spice with a cookery show called Pakwaan.
With the right ingredients, the show was slated to become a TRP topper. Immense viewer participation and simple dishes prepared with easily available raw materials made the show extremely popular.
Recently, chef Arun Bhatnagar, who is the show's new anchor, has included a "summer special" with episodes on mangoes, juices and pickles apart from the usual festival foods.
With a pinch of this and a dash of that, Pakwaan is slowly but surely regaining viewer attention. We sure hope that Sanjeev Kapoor has enough steam left in him to counter this shift in viewer attention though he needn't worry too much. By slotting the show on Mondays at 12.30 pm, DD has scored a self goal.
A soppy saga
ONE of Bollywood's supreme family saga makers has tiptoed into the world of television. Rajshri Production is all set to wield its magic on Sahara One with Woh Rehne Wali Mehelon Ki, a Balaji lookalike soap.
This maiden TV venture of the Barjatyas revolves around the spoilt daughter of a millionaire who is forced by circumstances to live like a commoner. As a bonus, the soap promises to inspire Gen Next to read the Bhagvadagita. "This will be Sahara One's ticket to success," says a channel executive. Considering that the audience has just about had it with soppy sagas and considering that Sahara One has had a line-up of duds like Karishma, Malini Iyer, Kamini Damini and Dial One Aur Jeeto, one hopes this ticket reaches it's destination – give the channel some semblance of success.
Hosting stars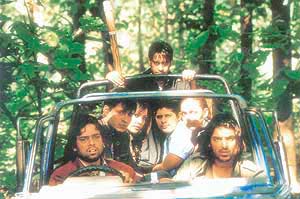 Film celebs on TV : Lending a helping hand.
Bollywood and television have finally joined hands. National Geographic Channel's recent programming overhaul proves just that. An important aspect of this revamping is an attempt at grabbing viewer eyeballs by roping in film celebrities.
Kaal: Mysteries of the Deep Jungle, featuring the cast of Karan Johar's Kaal, was aired on the NGC sometime back. John Abraham, Ajay Devgan, Esha Deol, Lara Dutta and Vivek Oberoi all anchored a show. Last summer, too, the channel sizzled when Akshay Kumar made his TV debut with an electrifying series on his first love, martial arts.
Following in the NGC's footsteps, other channels have also started cashing in on the filmstar-as-anchor trend. Diana Hayden is hosting the all new series of Biography on the History Channel, giving viewers a peep into the private lives of public figures.
The channel is gung-ho about the new show and the excitement is brewing Monday to Friday. And why not? After Amitabh Bachchan set the trend with Kaun Banega Crorepati, channels are grabbing at the opportunity to do shows with film celebrities to secure their share of the TRP pie. And the stars are laughing all the way to the bank. — NF