Pataudi gets bail in poaching case
CJM gets threat calls
Raman Mohan and Deepender
Tribune News Service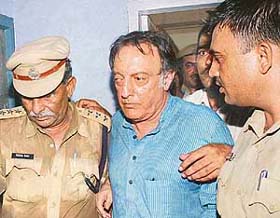 Former Indian cricket captain Mansur Ali Khan Pataudi comes out of a Jhajjar court after being granted bail on Monday. ó PTI photo

Jhajjar, June 20
Even as Chief Judicial Magistrate Sudhir Jeewan granted bail to former Indian cricket captain Mansur Ali Khan Pataudi today, he told a shocked courtroom here that he had received a threat to his life.

Just after granting the bail on a personal surety of Rs 50,000, the magistrate retired to his chamber and emerged after a minute. He summoned the DSP present in the courtroom and informed him that while he was on his way to the court, his wife had two threatening phone calls at his residence and the caller threatened to kill him if he granted bail to Pataudi.

The police said it had no clue of the caller as yet and the matter would be investigated.

Though the police started a preliminary probe, officials said an FIR would be registered only after receiving a written complaint.

Pataudiís third day in the lock up began with an early morning visit to his Vasant Vihar residence in Delhi. The police took him there to recover the registration certificate (RC) of Maruti Gypsy allegedly used in the crime. The police had sought extension of his remand yesterday on the plea that the RC was yet to be recovered. The officials said the vehicle was in the name of Pataudi.

On return from Delhi, the former

cricketer complained of chest pain and suffocation. He was admitted to the Civil Hospital where his condition improved after some time.

He was later taken to the courtroom around noon where the prosecution wanted him to be sent to judicial custody. Pataudiís lawyers, however, pleaded that no recoveries had been made from their client and there was no justification for remanding him in judicial custody.

They maintained that another accused in the case, Madan Singh, had already been granted bail on the grounds that nothing incriminating had been recovered from him and that the trial was likely to take a long time.

In addition, he was not in good health and needed constant medical attention.

Pataudiís counsels denied the prosecution plea that their client had evaded the investigation and said seeking anticipatory bail.

After the arguments, the magistrate granted him bail on furnishing a personal surety citing his earlier order on the bail plea of Madan Singh. After pronouncing the order, the magistrate informed the police that he had been threatened.

Meanwhile, the police is still clueless about the whereabouts of six other accused in the case, including CEO of a software firm Shashi Singh.