PUNJAB

HARYANA

JAMMU & KASHMIR

HIMACHAL

REGIONAL BRIEFS

NATION

OPINIONS

MAILBAG

BUSINESS

SPORTS

WORLD
Thursday, June 23, 2005, Chandigarh, India
Updated at 3:00 am (IST)
APHC seeks dialogue with Centre
Srinagar, June 22
Describing the recent visit of the APHC delegation to PoK and Pakistan as an "important first step", chairman, Mirwaiz Umar Farooq, here today sought initiation of a dialogue with the Central Government for the resolution of the Kashmir issue. He held that the Hurriyat Conference was "more than satisfied" with the visit and the time was approaching for the resolution of the issue as it had entered an "important phase".


In video (28k, 56k)
CAST YOUR VOTE
Do you think that the road accident rate is too high?



FORUM

EDUCATION

JOBS & CAREERS

HEALTH & FITNESS

SCIENCE & TECHNOLOGY

SPORTS

SOCIETY

TRIBUNE CLASSIFIEDS

BRIDES WANTED

GROOMS WANTED

OTHERS

HOW TO PLACE ADVTS
CM's appearance under 'Khalistan' banner genuine mistake: Cong


New Delhi, June 22
The Congress today defended Punjab Chief Minister Capt Amarinder Singh despite the storm kicked off by his opponents over his presence in a Canadian gurdwara, known to be a hub of separatists.

Punjab page: BJP, SAD demand Amarinder's sack


3 Cabinet ministers defend CM's visit
A Tribune Special
'Bhukki', charas, opium tighten grip on Punjab countryside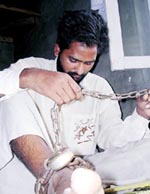 Chandigarh, June 22
Twentytwo-year-old Kuldip Singh, the only son of a small farmer of Dhenthal village in Samana, remains chained to his bed in the family's dilapidated home. The reason: he is a drug addict. He turns violent on being denied his daily dose.

While boys of his age help their families in farm work and the household chores, 22-year-old Kuldip Singh remains chained to his bed in Dhenthal village in Samana tehsil. — Photo by Rajeev Sachar

In Amritsar Plus today
FORUM
The new question is:
What should be done to reform the examination system?
Send your letters, not more than 150 words, to:
The Editor-in-Chief, The Tribune, Sector 29-C, Chandigarh, with 'Forum' superscribed on the envelope. The answers can also be e-mailed to:
[email protected]

QUOTE OF THE DAY
"We want to extend the spectrum of talks... the onus is on all, even upon us".
— Mirwaiz Umar Farooq
THE TRIBUNE MAGAZINES
On Sundays

On Saturdays

Indian goes missing from ship
New Delhi, June 22
An Indian national, employee of a Mumbai-based shipping company, has allegedly gone missing from a vessel during its journey from Houston in the US to Nigeria.



Assent to Right to Information Bill
New Delhi, June 22
The Right to Information Bill, passed by Parliament earlier this year, has received Presidential assent, paving the way for bringing transparency and accountability in governance. — UNI

Heat wave claims 2 more lives
Chandigarh, June 22
Amritsar today experienced the season's hottest day so far recording a six degrees above normal at 46.1° as the heat wave continued unabated in most parts of North India.
ICAR asks farmers to adopt early maturing seeds
New Delhi, June 22
The Indian Council for Agricultural Research today asked farmers to go in for early maturing variety seeds and not to be disheartened by the delay in monsoon.


Pre-monsoon showers in Orissa, UP
New Delhi, June 22
Pre-monsoon showers and moisture in the air today brought some relief to areas reeling under intense heat wave condition in Orissa, Bihar, Jharkhand and east Utter Pradesh.

Children enjoy being lashed by huge waves at Worli Sea Face in Mumbai on Wednesday.
— PTI photo


19 Gujarati tourists killed
June 22, 2005

Petrol, diesel costlier
June 21, 2005
Anil Ambani enterprises in power
June 20, 2005
Ambanis reach accord
June 19, 2005
Bonanza for farmers
June 18, 2005
Cabinet nod for dual citizenship
June 17, 2005
Be impartial, PM tells Governors
June 16, 2005
Punjab hikes power tariff by 10.27 pc
June 15, 2005
15 dead, 90 hurt in Pulwama blast
June 14, 2005
Let Siachen be a peace mountain: PM
June 13, 2005