PUNJABI ANTENNA
Cool crooners
Randeep Wadehra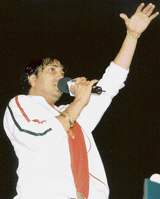 Mika belts out Punjabi hits

When the live telecast of Punjabi Beats from Amritsar was announced by Zee Punjabi, one wanted to yawn. However, one watched it in case something new was being offered. There was Navjot Noor compering the show which had singers like Mika, Nachattar Gill et al belting out the usual stuff. When the show began, there were only a handful of die-hard enthusiasts at the venue. But as the evening progressed, the audience swelled several fold as did the decibel level.


Eye-catcher

Dimple Mehta is a proficient dancer as well as an anchor. She compered AIRís Mehfil for some time. Other programmes anchored by her are the MH1ís Ek Tara Bole and road show I Want. Currently sheís anchoring Phulkari for Zee Punjabi, apart from ETC Punjabiís Dil Diya Gallan and Caught On Camera. She was also seen in the BBC-DD joint production Vijay Jasoos.
Every time a crooner, I couldnít get her name, asked whether anyone would like to be her Ranjha, there was a sea of raised hands accompanied by affirmatives-in-chorus. Obviously the show was a hit. Beating the heat with music? Only Punjabis can do it.
One was taken aback by the change, in a popular anchorís hair colour. Her fetching light-brown tresses had suddenly turned garish gold. It hardly suited her typical Indian looks. Brown-skinned blondes look as bizarre as dusky redheads. Somehow the desire to be different often tempts artistes to do weird things.
Now one finds "artistes" with weird hairstyles and get-ups; hair sticking out like bunched-up porcupine quills, beards trimmed to look like shoe-polish brushes and moustaches resembling criss-cross of bruises. As for their mannerisms ó the less said the better. When content is absent, zany form becomes the norm. An epitome of this trend, Jazzy B, candidly recalled how, while he was walking down a footway in Canada, a group of Punjabi rustics, visiting the country for the first time, commented on his appearance, "Oye, Kanedda vich aih kee turya awnda hai?" Ouch!