Waste to the rescue
Nilesh J. Gupte aims to provide low-cost, quakeproof and tsunami-resistant houses to people of the Andamans. Here, the architect gives a first-hand account of his project, which is being jointly undertaken with a US firm.
The thought of providing shelter to thousands of homeless in the tsunami-hit Andamans by making use of waste resources made me search the Net for information on the subject. I hit pay dirt with Biotecture, an architectural firm in Taos, New Mexico, USA, headed by architect Michael Reynolds. Michael has been involved with the reuse of waste materials like tyres and glass and plastic bottles in developing self-sustainable structures called 'earthships'.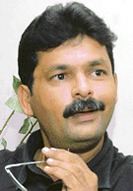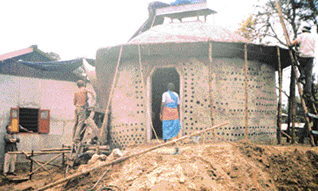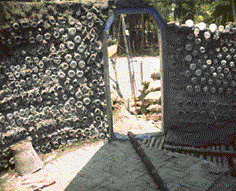 mission possible: Nilesh J. Gupte; the earthship shelter on the Andamans is made of bottles, tyres, plastic and bamboo

Being a tourist destination, the Andamans, 1300 km from mainland India, has a lot of waste material. Normally, this waste, mostly non-biodegradable, is burnt, buried or left strewn around, causing a great environmental hazard.
During my discussions with Michael, I brought to his notice that resources like water and electricity were always in short supply in the islands, and it was decided to go in for structures that not only utilised the waste but were also less dependent on electricity and water for construction.
Resources are of two types – natural and man-made. One of the most important but least addressed man-made resources is waste. I call waste a resource because it can be put to use instead of it being a source of pollution or nuisance. It was this realisation that drove me to look at waste with a different perspective – to be used instead of discarded and to be respected instead of disregarded, to be gathered for beautification instead of pollution.
The other issue that we decided to tackle was the disposal of wastewater from the toilets, as the Andamans does not have an underground sewage disposal system. We also had to make the structures quake-resistant as the islands are prone to earthquakes.
Keeping these issues in mind, a sample structure was designed and built in Hut Bay, Little Andaman, by a team of architects and engineers from Biotecture and my firm, Architects and Design Consultants, India.
The earthship is a self-sustainable structure – with its own sources of water and power - that can also withstand, to a certain degree, tsunami waves. It can be built by anyone as was demonstrated by the team members who put up one with their own hands in just 15 days.
A conventional structure would have taken three times the amount of time. The circular form makes the structure more stable and would break the impact of a wave more than a flat surface. The structure is built on a foundation of tyres rammed with earth. The weight of each truck tyre, when packed with debris, is almost 400 kg and it is this sheer mass that holds the building to the ground. The layers of tyres in the foundation make the structure quake-resistant due to their ability to absorb tremors.
The area within the tyres is excavated to form a rainwater-harvesting tank, which is lined with plastic to stop seepage into the ground. The rain water is filtered through the natural filter of sand and gravel before it is stored in a dark underground chamber. We were able to store about 10,000 litres of water in a chamber with a diameter of 16 feet. Given the shortage of potable water in the islands, this serves as a captive source for every dwelling unit. The flooring (which covers the water tank) was laid with bamboos that were easily available, adding to the aesthetic look. The cementing of the bamboo floor ensures that the water below is protected.
The well-insulated walls were made of bottles, both plastic and glass, which provided the requisite mass as well as air vents. Such walls lower the temperature within as well as reduce the amount of material consumed. These eliminate the need for forced or artificial ventilation.
The roof is made up of two layers with an air gap, which also works as an insulator, thus lowering the temperature and humidity within.
Panels of photovoltaic cells installed on the roof provide electricity, making it self-reliant and not dependent on costlier, external sources of supply.
A bio toilet too has been set up which regenerates the surrounding soil. The grey water is available for flushing after going through a simple bio-filtration process through sand, gravel and pieces of plastic bottles.
The cost for building a residential unit (earthship) of 300 sq ft would be Rs 1,50,000 as against Rs 3,50,000 for a conventional structure. This would include the water harvesting tank, solar energy cells and bio toilet.
The cost of construction is with reference to prevailing costs in Hut Bay at present. The costs are much higher than in mainland India due to the logistics as all material comes from the main land and has to be then transported to the various islands. The recurring costs of electricity and water would be minimal as compared to the conventional dwelling.
The Inspector-General of Police of Andaman and Nicobar islands has asked us to build five such self-contained structures in the islands. Each of these will be 200 sq ft each with separate toilets of 150 sq ft. The entire built-up area, about 2000 sq ft, would cost Rs 10 lakh. This would include the water harvesting tank, solar cells and bio toilet. The cost as per present rates here would be double for conventional.
This structure has stirred interest among those working to build dwellings for those rendered homeless by the tsunami. The Andamans need about 10,000 permanent shelters and we expect to build about 260 in the first instance, a number that could go up.
The earthship is appropriate not only for Andaman Islands but other parts of South East Asia too. Due to its self-sustainable character, it is suitable for remote areas, especially as police and forest outposts, schools and primary health centres.
These structures can also be used by the tourism industry to add value and redefine eco-friendly and cost-effective resorts.
It was an amazing experience to see people from two countries working together, with their own hands, to build this unique structure in Hut Bay. The feeling of cooperation and comradeship created a ripple of excitement in the area and locals pitched in to help either with physical labour or material.
This is an important experiment in environmental protection and efficient waste (resource) management.