haute line
Backless is the rage
Om Gupta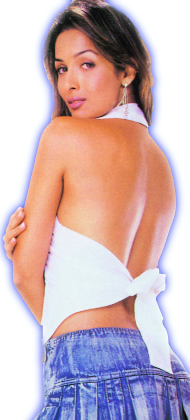 Itís all the rage among the young, sexy and fashion-conscious. Thanks to Aishwarya Raiís daring black gown at the Cannes Film Festival, backless is well and truly back with a bare-dare look. The backless style statement has rekindled the debate as to how much exposure is sensuous and what is sensual.
Frankly, there is nothing shocking about a bare back. The mega-serial, Mahabharata, presented the mythological royal ladies in scanty cholies in the name of torso covering. And in weddings and festivals celebrated nowadays by the upwardly mobile and well-to-do, the backless choli is one of the most wanted and flaunted styles. But aside from the style quotient, there is even the matter of convenience. These days, women keep their backs above the waist bare because of the hot surroundings they work in. Going by the same logic, the scorching heat of over 40 degree temperatures nowadays does make you feel like throwing off all non-essential attire.
However, dressing up for a party that will be held in chilled, air-conditioned comfort is a matter of choice rather than compulsion.
But to begin with, one should have a body to flaunt if backless is the style you choose. Some diehard cynics were quick to point out that Ashís flab was quite unfashionable and did her looks no favours at Cannes. It was not the first time that models and designers gave unsolicited advice about the dress code of the Indian beauty. But Ash has reached a stage in life where she can afford to create her own signature dresses. And that she did at Cannes.
Moving beyond the body beautiful, however, there is skin. Skin has defined the concept of beauty through the ages. In fact, the history of civilisation is filled with skin-deep racialism. But without getting into coloured preferences, if we talk about bare back skin, there are abundant possibilities ó from covering to uncovering, ornaments to tattoos and straps to spaghettis. The skin of the back is a new-found obsession with many women who throng parlours and skin clinics in pursuit of a flawless back. Just how big the backless rage is was proved when Kaaya Skin Clinic in Delhi held a Ďbackless nightí where women were invited to come in and show off their impeccably smooth upper backs.
A lot of improvisations have been made to breast attire, from corsets and cholis to branded brassieres, but obviously, the bare back is now giving it a run for its money.
About the obscenity factor in baring the back. If beauty lies in the eyes of the beholder, so does vulgarity. If the Khajuraho sculptures canít be called bad in taste, then how can a well-preserved back of a beautiful lady be termed as indecent exposure? Even frontal nudity is not a taboo in plastic arts or even paintings, but only in photographs. Then how can an innocuous back give ideas to a discerning eye? And if some one starts imagining, isnít that his/her problem? Letís face it. There is nothing indecent about a bare back. Itís only the display of a well-groomed body with style statements through straps and strings.
For the fashion-conscious: backless is the mantra this season. Designer Sashikant Naidu definitely had it on his radar when he made his fashion forecast for Spring-Summer 2005 Ė along with sheer fabrics, pastel shades and small stoles, he put backless halters at the top of his list. ó MF