Not all generals are leaders
Rakesh Datta
Leadership in the Indian Army: Biographies of Twelve Soldiers
by Major-General V .K. Singh. Sage. Pages 418. Rs 450.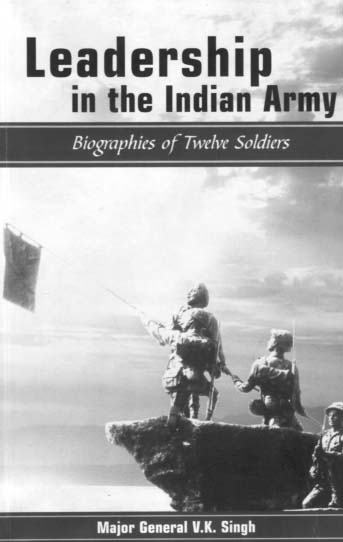 THE military profession has always placed a greater premium on valour rather than on victory, especially in India where most favoured leaders like Porus, Prithvi Raj Chauhan, Maharana Partap and Laxmi Bhai lost their battles but became legends to inspire generation of leaders.
Leadership in the Indian Army by Major-General V .K. Singh brings about human side of the 12 military leaders representing a cross-section of the Indian Army. Of the 12, nine are from infantry while one each from cavalry, engineers and signals. The author very rightly confesses difficulty in deciding on the names but could not have a better choice than meriting the documented ones.
In strength of character, personal morality, sense of duty, welfare of troops, statesmanship and loyalty to the organisation served, they were all alike. For instance, what a fine example of moral value and courage when Thakur Nathu Singh selected to be the first Indian Commander-in-Chief declined the post in favour of K. M. Cariappa, his senior. Nowhere in the world such exemplary characters are seen.
There lies a popular civilian perception that British Indian army was an instrument of repression against the natives and was promoting only the imperial cause unlike the then political leaders spearheading the nationalist movement. This subsequently perpetuated discord in civil-military relations in post-independent India. The author has rightly dispelled the belief by narrating from the biographies of Thimayya, Nathu Singh, S. P. P. Throat and others who impressed by the nationalist fervour offered to resign from their commission but were advised to the contrary, as their services would be needed when India attained independence.
It was however a different matter when Cariappa, having foreseen the Chinese threat in 1951, presented an outline plan for defence of NEFA to Jawaharlal Nehru. He was rebuked that it was not C-in-C business to tell the Prime Minister how to defend the country. Later, Thimayya and Throat too fell out with the political leadership on professional grounds, narrates the author.
Manekshaw, of course, is a breed apart. Not bowing to the political pressure in plunging the country to untimely war straightaway, he rather reminded Indira Gandhi that had he been the Army chief in 1962, he would not have put Nehru to shame. Such audaciousness, according to the author, forms a thin line between being a Field Marshal and being dismissed. A colourful military leader of an outstanding ability, he is a living legend.
Another soldier/general much talked about was sapper Prem Bhagat who was the first ICO to be awarded Victoria Cross and later appointed sole member to the famous NEFA enquiry. An epitome of bravery and professionalism, including his penchant for troop welfare, says the author, largely cost him the chief's position. A combat leader par excellence, Sagat Singh, on the other hand, could be truly equated to Patton and Rommel. Tales about his wartime exploits are studied in military establishments. But despite his brilliance in conducting operations whether in Goa or in East Pakistan, it was Portuguese Government, which had put a reward of $10,000 for his capture while his own superior refused to acknowledge his gallant actions instead trumpeted more about his peccadilloes.
A legend of Naushera and Jhangar fame, the valiant Brigadier Mohd Usman was endeared to his men he commanded and stood by them. His famous order of the day to his troops while assaulting for the recapture of Jhangar was reflective of being a passionate soldier.
A communicator, Rajinder Nath Batra, was truly a Field Marshal of Indian Communication. The author himself being a signal officer could well appreciate the singular efforts made by General Batra in formulating a new communication philosophy by developing the AREN theory, which enhanced the operational capability of the Indian Army.
Another icon is Zoru Bakshi. A winner of Vir Chakra and Maha Vir Chakra, he was a strict disciplinarian who ensured that his troops maintained the highest standard of behaviour, especially with the local population. In fact, the famous Chicken Neck name was given by him to the Phuklian salient.
Some generals do not fade away and so is General S. K. Sinha, says the author, who missed the chief's position by a hairbreadth. In fact, Sinha's brilliance was his undoing. Many people may not know that it was Sinha, then Major, who was credited to organise the airlift of Indian troops to save the valley during the 1st Kashmir War. Hanut Singh, on the other hand, was the best armour commander India has produced and the only one the Pakistani army feared and respected.
Full of personal account and anecdotes, it must have been a painstaking experience for the author to highlight the exploits of the military leaders. The book can be of great interest to defence officers and scholars of all shades.
Pak readied nukes during Kargil
The Pakistani government was unaware that its army had readied nuclear missiles during the 1999 Kargil conflict with India and backed down only under pressure from the US, a new book says.
In Pakistan Between Mosque And Military, author Husain Haqqani deals extensively with the July 4, 1999, meeting between the-then US President Bill Clinton and the-then Pakistan Prime Minister Nawaz Sharif in Washington to find a face saving measure to end the Kargil conflict, the Dawn reported on June 20.
Bruce Riedel is quoted as saying that Sharif "wanted desperately" to find a solution that would allow Pakistan to withdraw from Kargil "with some cover".