Code of the comic genius
Harsh Desai
Wodehouse: A Life
by Robert McCrum
Penguin Viking. Pages: 419. £ 15.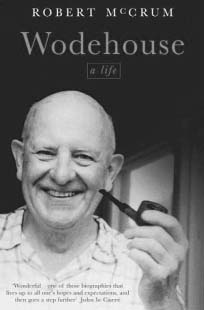 EVERY biography is not strictly meant for fans. The biography of Napolean, for instance would interest a vast swathe of people but the PG Wodehouse biography which fills a big gap in a fan's life might not be interesting to some one not familiar with Wodehouse's work. I, for instance, cracked up several times while reading the book.
When I read the names Dolly and Soapy Molloy I could not stop laughing because they are two of Wodehouse's most wonderful villains or when I read that Jeeves was a name derived from the English county cricketer Percy Jeeves, I was intrigued. But I do not know what a non-fan would make of it. This biography is also not a great introduction to PG.
Robert McCrum effortlessly traces Wodehouse's career from his first job at the Honkong and Shanghai Bank in Lombard Street London — where he worked for a year or two and then left it for a life as a freelance journalist — to his late years in Remsenburg New York. The book is mostly about the books PG wrote, the lyrics he wrote for Broadway, his not-so-successful stints in Hollywood and the contributions he made to magazines (from the Globe to Colliers to Punch).
Wodehouse was a workaholic and writing was his mainstay. This comes across very clearly in the book. He told the New Yorker on his 79th birthday, "When you've written about 80 books and they are always exactly the same Edwardian stuff, it is sometimes difficult to churn it out, but I love to write. I don't know what I would do if I did not write." Even during World War II when he was interned in Germany, he wrote four or five books. Wodehouse seems to have had the skill to blank out reality and slip into an imaginary world of earls and butlers for the asking, something he wrote about even when the world that he described no longer existed.
The German episode alluded to above started when Woodhouse was captured in France at his house in Le Touquet and transported to Germany, where eventually the Germans came to learn about the fame of the prisoner and his publicity value. Transported to Berlin on the day of operation Barbarosa (the German invasion of Russia), Wodehouse was persuaded to make five broadcasts, which seem to have made his life during the war more comfortable. The Germans possibly might have thought that the rroadcasts might help in maintaining America's isolationist stand. In any event it was a huge public relations' coup which caused outrage in America and Great Britain as it happened at the height of Nazi war effort and when Britain was staggering. Wodehouse made five broadcasts which were deemed to have almost amounted to treason in Great Britain; so offensive were they that even after the war he never stepped into Britain.
Wodehouse tried to give a comic spin even to his internment and made light of the war when he said in an article before the broadcasts that the war could be settled by giving up India to the Germans along with a stack of Wodehouse books. His flippant attitude towards the war showed how out of touch he was with reality. The rest of Wodehouse's life was an effort to extricate himself from the mess he got into. Wodehouse, the writer, in the public mind can never be completely separated from Wodehouse, the broadcaster. Robert McCrum lays out the facts and leaves you to judge. He hints at explanations but never adequately explains Woodhouse's actions. Probably because there is no adequate explanation. I wished more of his speeches were extracted but I understand McCrum's reluctance to quote chapter and verse. It may have made his fans blanch. Wodehouse has been forgiven by the Americans and the English so who am I not to forgive him. Now even the Germans have been forgiven by the world.
McCrum dwells at length on his relationship with the two most important women in his life: his wife Ethel with whom, according to McCrum, he had a close but sexless marriage; and his step daughter Leonara, with whom he was incredibly close and who died in tragic circumstances during World War II. This blow made PG's immediate post- War years miserable. A lot of the book is also devoted to his friendship with his Dulwich classmate Bill Townend, who became a close friend and was supported by Wodehouse throughout his life.
All in all, all one can say is this is a biography that PG would have approved of and the sort of biography which will tempt fans to start reading Wodehouse books once again.