Punjabi Review
History at hand
Nirupama Dutt
Nerhion Takia Itihaas
Essays by Tarlochan Singh, Ed Dr. Pritam Singh Batra. Unistar. Pages 260. Rs 150.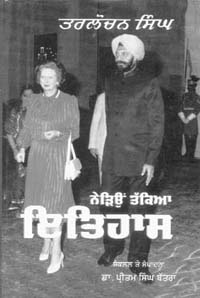 THIS is a book of essays by someone who has closely witnessed the recent history of India and had a special interest in what it has spelt out for the Sikhs. The writer is Tarlochan Singh, who is chairman of the Minorities Commission and member of the Rajya Sabha. In all it is a collection of 62 short essays, published earlier in newspapers and journals. The editor has placed them in a perspective and culled out a volume, which should especially interest those who wish to seek insight into the Sikh politics as well as gain fresh insights into events that preceded and followed the dark decade of militancy in Punjab.
Among other things the concern of the writer has been to record the contribution of the Sikhs to the Freedom Movement, the role of the Sikhs during the Emergency, Operation Bluestar, the history of the Akali Dal as well as their squabbles as well as the controversy that surrounded Daler Mehndi in recent years. Some of the writings personality sketches of prominent Sikhs like Master Tara Singh, Giani Zail Singh, Devi Lal, Manohar Singh Gill and others. In a foreword to the book Punjabi critic Satinder Singh Noor says that this book is a welcome addition to the world of Punjabi letters.
A debut novel
Nimmo
A novel by Manjit Kaur Gill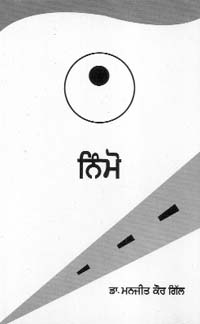 S.P. Prakashan, Delhi Pages:103. Rs 140
Nimmo is a debut novel by Manjit Kaur Gill, who has been a medical practitioner all her life. After completing a lifetime of duty at work and at home she finds time to tell a story. We all have stories around us. Some are told and some are not. The story told is of a doctor called Nirmala with Nimmo as a nickname. A child widow, she is quietly taken away from rural Himachal Pradesh to the town to study. She does her medicine; falls in love but the ghosts of her past keep chasing her. It is not for her to build her life anew.
The novel comes as an attack on primitive customs that can mar the life of an educated woman and compel her to live by their dictates. Nimmo does not marry her colleague but instead makes a choice to stay single and devote her skills for the uplift of women's health. Finally the villagers give her the status of a saint and a samadhi is built in her memory. Nimmo is no more but still she smiles through a healthy girl child in the hills. It is a simple story but told with sincerity and thus it succeeds in inspiring the reader. One would hope for more stories from Manjit Kaur Gill.