Food Talk
Arbi all the way
Its high starch content makes it just right for the veg kebab, writes Pushpesh Pant
ARBI or ghuyian or pindalu is an inexplicably underrated vegetable. Aloo, its close cousin, though a late entrant in the subcontinent, has upstaged it for centuries. It was not always so. Pindalu finds mention regularly in the list of indispensable ingredients in the Mughal kitchen and menu of shahi dastarkhwans.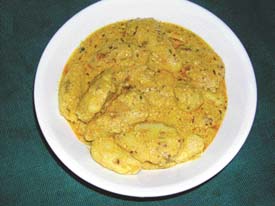 So low has its reputation sunk that the dare is khao to ghuyian se na khao to ghuyian se — like it or lump it there is just ghuiyan to eat. The only time we have seen it being accorded right royal treatment was at Lucknow where the one and only Farouk Mohammed dished out a delectable dabi arbi ka salani but one must confess that much of the taste, hue and aroma of the delicacy was contributed by the gravy that was unabashedly prepared with non-vegetarian stock and used gosht waale masale.
Arbi is a versatile veggie — its high starch content makes it an attractive candidate to fashion vegetarian kebab, and sliced thin and served in a dry or sauce like spicy drape, it can create quite a sensation. Small, whole arbi in achari masala tempered with curry patta and kalonji are our personal weakness, others prefer the ajwaini chownk. Arbi ke patte are used less often but make a fantastic starter filled with tangy lentil paste, fried rolled and served in a shape mimicking a fish.
Anand Krishnaji, art collector and living encyclopaedia of Benaras, introduced us to this almost forgotten gem the aleekmatsya some years ago. But that is another story dealing with leaves; here we are concerned with the roots.
It was a shaakahari neighbour's wife at Jawaharlal Nehru University who was generous to let us taste, and then consume the proverbial lion's share of Brindabani arbi prepared for her family — sans onions or garlic — on the day of their fast. What brings the delicious memories back is the thought that the dish can be relished cold with roti or rice on a hot summer afternoon for lunch or served as a refreshingly light main dish for dinner.
There is a Rajasthani variant that incorporates a small amount of besan and, of course, a pinch of hing. If you are not strictly vegetarian eschewing garlic, a teaspoonful of garlic paste can be added to enhance the taste. We prefer the unadorned beloved of the denizens of Krishna's playground. A tempering of zeera with pure ghee never hurts it.
Brindabani arbi
Ingredients
Arbi (colocassia) 300 gm
Yogurt (whisked well) 1 cup
Ginger paste `BD tbsp
Turmeric powder 1 tsp
Red chilli powder 1 tsp
Cloves 3-4
Black cardamom two
Carom seeds 1 tsp
Oil 4 tbsp
Salt to taste
Method
Boil three cups of water in a pan and put the arbi until boiled but not mushy. Then remove from heat. Now peel the arbi, and cut into `BD inch thick slices or use whole. If using whole, flatten between palms a little. Make a mixture of yogurt, 1cup water, salt, red chillies and turmeric powder. Heat oil in a pan, add cloves, cardamom and carom seeds. Let them splutter for about one minute. Add salt and garam masala (if using), stir for about one minute, then add arbi and fry for about 10 minutes till the stickiness is no more there and the arbi turns light brown. Now add the yogurt mixture. Stir and cook on low flame for about five minutes. Remove from fire and garnish with coriander. You may pep the dish up with green chillies chopped fine or sprinkling some red chilli powder on top.