Curtains for puppetry
Lata Phadkar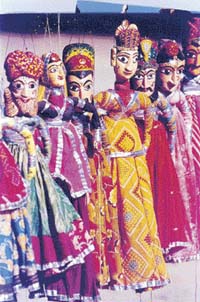 Absence of innovation has sounded the death-knell for this art
THE curtain lifts to reveal a white cloth stretched across the stage. It serves as the backdrop, against which Haribhai and Meeraben go through the motions of marriage for the umpteenth time. Standing behind the cloth, Kailash Sinh puts them through the paces with practiced ease.
Haribhai and Meeraben are puppets in Sinh's hands. Sadly, the marriage ceremony fails to move the urban audience. And halfway through the show, the 65-year-old puppeteer finds himself speaking to an empty auditorium.
This response is an indication of the things to come. "Nobody is interested in our show," says Sinh. "I am continuing with this profession because I do not have anything better to do. But my sons and their children have moved out. They sell fruits on handcarts."
Sinh could well be speaking for the practitioners of this 2000-year-old art form in India. As a sixth generation puppeteer in his village at Gujarat, he still has enough pride to keep himself going. But after him, he knows, there is nobody to take over.
In Andhra Pradesh, Tirupathi Rao heads the Kumara Tirupal Company, one of the oldest puppet theatre groups in the country. He has toured many countries with his set of leather puppets, but in India, he does not have an audience.
"There was a time when entire villages would gather to see us perform," he relates. "But today, there are other forms of entertainment. We have few patrons. At the very best, we are paid Rs 200 a show. I would never want my children to join this profession."
Puppetry has already become extinct in Rajasthan. At one time, there were about 1,500 schools or gharanas of puppetry. Today, not even 20 exist as most puppeteers have migrated to neighbouring states, choosing to work as farm hands and construction labourers.
Says Sanjay Rathod, a tour guide in Jaipur: "Some of the puppeteers who have stayed back are paying hefty amounts to five-star hotels to sell their puppets as souvenirs to foreign tourists. They do not have any other source of income."
Rao says that till the 1970s, there were 25 puppet troupes in and around Madhavapatnamin in Andhra Pradesh. "Today there are only two," he informs. "Between them, they take care of the entertainment at village fairs, performing episodes from the Ramayana and Mahabharata."
Says T.Ranga Rao, president of the Andhra Leather Puppet Arts Association: "Puppeteers have taken to adapting film songs and impersonating popular stars and celebrities on stage for survival. But even that is turning out to be futile."
Clearly, the absence of innovation and failure to adapt to changing sensibilities of the present-day audience has sounded the death knell for puppetry. The younger generation is unable to connect with the mythological tales, which constitute staple fare for most puppeteers.
At the same time, there is a conflicting view that upholds the purity of the art in its original form. As Sinh puts it, the risk of bringing in corruption to the form cannot be avoided if "an artiste has to play to the gallery".
Ameeta Desai of the Max Muellar Bhavan in Mumbai says, "You have to watch these performances the way they were watched hundreds of years ago when there were no other forms of public entertainment."
But then, there are initiatives from the government to use puppetry as a medium of non-formal education. Common campaign themes like national integration and communal harmony are popularised among the unlettered in villages through itinerant puppeteers.
Likewise, theatre activist Meena Naik is conducting AIDS workshops using puppets for sex workers in Mumbai's red light districts. She is also holding language development courses in the city municipal schools by employing puppets and masks for children.
Then there is Surabhi, a 113-year-old puppet theatre group from Bangalore, which took the help of playwright B. V. Karanth to infuse contemporary theatre techniques into puppetry. Karanth produced Chandi Priya, a play on female infanticide.
There is also M. V. Ramamurthy, a member of the Central Leather Puppet Research Institute, who is experimenting with the art form by cutting out "erotic and vulgar humour", which has been an integral part of the puppet tradition in India. — MF