Upbeat about Bollywood
Not many may know it, but Lord David Puttnam, the Oscar-winning British producer, who has made films like Chariots of Fire and The Killing Fields, is a dedicated Indophile.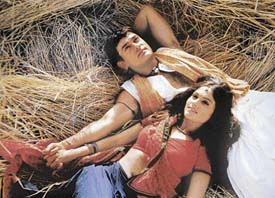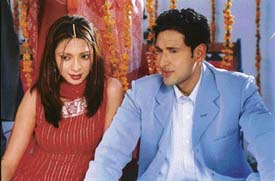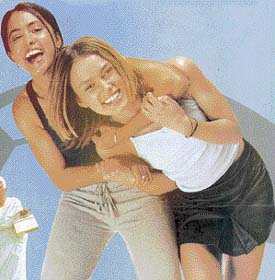 (Top) Lagaan, Monsoon Wedding (Middle), Bend It Like Beckham (Bottom)
THE 64-year-old, who has even adopted an Indian girl, has a deep love for things Indian. And this shows in his concern for the countryís culture. "The rapidly growing Indian middle class is in danger of losing contact with traditional values. Can a successful India be built on the abandonment of its traditional value base?"
Bend It Like Beckham touched on the subject by asking the right questions on tradition and modernity in India," says the Labour peer, who was knighted in 1995. Puttnam is equally interested in seeing Bollywood succeed globally.
"Take essential features of Bollywood like the use of music, high energy levels and attitude and hybridise them with global cinema. The real challenge is to translate the style, the flair and energy of Bollywood into a global idiom." Hailed as the saviour of commercial British cinema, he has made hugely successful films like The Mission, The Killing Fields, Local Hero, Chariots of Fire and Midnight Express.
"All are about men under pressure and how men handle different kinds of crises and the kind of choices they make," says Puttnam, who confesses to finding women mysterious. "I donít understand women. I could never understand the motivations of women." Puttnam is upbeat about the global odyssey of Indian cinema, but he is not afraid to point the pitfalls that threaten this journey.
"The problem with the current Bollywood is that itís essentially an escape. Films have to ask the real 21 st century questions to be engaging and relevant," says Puttnam. "There are two kinds of Bollywood, the Bollywood that people like me know is represented by films like Monsoon Wedding and Lagaan and the other Bollywood is the mainstream Bollywood thatís very popular in India," he says.
"Unless India refines and develops mainstream Bollywood, this other Bollywood known in the West will remain a passing fad," he warns. "Indian cinema is much greater and deeper than just Bollywood. It will be successful on the global stage only when it recovers its ability to tell stories simply and directly," says Puttnam, who vividly remembers the unique ambience of Satyajit Rayís films like Pather Panchali and the Appu trilogy that still haunt his imagination.
Puttnam briefly flirted with Hollywood in the mid-80s and became the first non-American to head Columbia Pictures (1986 to 1988). He also tried hard to make a film based on Vikram Sethís A Suitable Boy, but the project stagnated due to a severe fund crunch.
Intellectually strong and emotionally subtle cinema is what excites Puttnam and this is where the future of Indian cinema lies, he says. "In the US, there are a number of edgy, questioning films being made like Garden Estate, Sideways and The Assassination of Richard Nixon that ask crucial questions like "Where is America going." Puttnam is of the view that the great thing about cinema is that it stimulates a big national conversation. It resonates with something deep within and stays with you for a long time. Indian cinema has to ask the right questions and bottom it out intellectually for itself," says the master filmmaker, who turned educationist to save himself the old age blues that hit a person in what he calls "this young manís profession". In his latest avatar as an educationist, Puttnam is Chancellor of the University of Sunderland in Britain. ó IANS