ULTAPULTA
Licence to kill
Jaspal Bhatti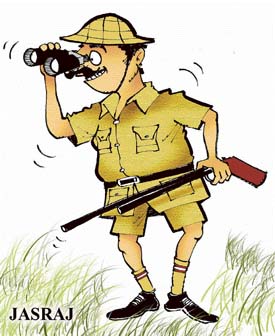 HUNTING is an addiction, especially with the Royals. We have stringent laws against hunting but it still goes unchecked. So some new laws are needed to check the same. A law may be made that any hunting-crazy nawab will have to kill at least 1000 rats or 10,000 common flies or one lakh mosquitoes first before he can be allowed to hunt a wild animal.
Imagine the Nawab of Patuadi procuring a certificate from the District Magistrate of Jhajjar proving that he has actually killed 20,000 rats and now he is qualified to hunt a wild animal. The royal hunter will die of embarrassment in the process of killing rats and mosquitoes.
Another solution to satiate the craving for hunting could be virtual hunting. Special jungles could be created using digital and electronic effects such as those in video parlours. People like the Nawab of Patuadi or Salman Khan could be invited to inaugurate an electronic shooting range. Fake black bucks or tigers could be hunted with laser toy guns.
Once Santa Singh and Banta Singh went for hunting. Santa shot at a tiger, but missed the target. The tiger started following them:
Banta: "Santa, the tiger is following us".
Santa: "Drive the jeep faster, Banta".
Banta: "The tiger is only 10 feet away".
Santa: "Left da indicator de ke, gaddi right nu mod le. Sher confuse ho jayega"(Give the left indicator and turn right. The tiger will get confused).