PUNJAB

HARYANA

JAMMU & KASHMIR

HIMACHAL

REGIONAL BRIEFS

NATION

OPINIONS

MAILBAG

BUSINESS

SPORTS

WORLD

Wednesday, June 29, 2005, Chandigarh, India
Updated at 3:00 am (IST)
BREAKING NEWS (updated at 2.30 pm)


India, US ink 10-yr pact for defence cooperation
---
Terror in Pak, PoK still exists: Pranab


Defence Minister Pranab Mukherjee has said that while there have been "several positive developments" in India's relationship with Pakistan, "we cannot still say for sure that the peace process is entrenched."

World page


India wants US to ease space, N-tech curbs

CAST YOUR VOTE
Do you think Himachal Pradesh took the threat from Parechu too lightly?



FORUM

EDUCATION

JOBS & CAREERS

HEALTH & FITNESS

SCIENCE & TECHNOLOGY

SPORTS

SOCIETY

TRIBUNE CLASSIFIEDS

BRIDES WANTED

GROOMS WANTED

OTHERS

HOW TO PLACE ADVTS
Yashwant Sinha sacked as BJP spokesman
New Delhi, June 28
The Bharatiya Janata Party today divested party's former External Affairs Minister Yashwant Sinha of party's official spokesmanship, sending a strong signal to other leaders that indiscipline was not going to be tolerated.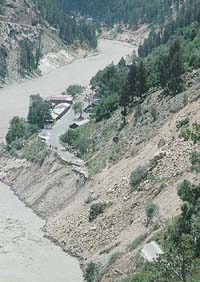 Stranded tourists airlifted
Rekong Peo (Kinnaur), June 28
Victims of the Sutlej fury Anne and her friend Isabella, had being waiting for 48 hours to be airlifted out of this place located 250 km from Shimla. Their wait ended this afternoon when the two women along with 15 other foreigners were "rescued" by helicopters.
The road from Rekong Peo to Kaurik is blocked by a landslide at Pauri village in Kinnaur district on Tuesday. — Tribune photo by Manoj Mahajan


Bhakra filling up


Himachal page: Flood hit state's lifeline


All tourists safe in Himachal


Flood fury kept residents awake


Sonia to visit flood-hit areas today


46 tourists evacuated from Kinnaur
In Jobs & Careers today
In Health & Fitness Tribune today

QUOTE OF THE DAY
India can prove to be an excellent base for the US defence industry, for provision of repair, overhaul, maintenance and servicing facilities.
— Pranab Mukherjee
THE TRIBUNE MAGAZINES
On Sundays

On Saturdays


China promises 'all help' on Parechu crisis
New Delhi, June 28
History seems to be repeating itself within one year as China has promised "all help" on the crisis posed in Himachal Pradesh by floods in the Parechu river but no information has trickled in yet from Beijing.
LPG to be sent on mules
Rekong Peo, June 28
Apart from saving people and their property from any further damage from a raging Sutlej, it is the logistics of meeting the daily requirements of people that is the proverbial "mountainous task".
Paswan may find the going tough with Digvijay Singh
New Delhi June 28
LJP leader Ram Vilas Paswan will come under increasing pressure in the coming days to align with secular forces in the coming Bihar Assembly elections, failing which his position in the UPA government could become untenable.


Sub-committees on agriculture, state debts set up
New Delhi, June 28
The National Development Council (NDC) today decided to set up sub-committees on agriculture and state debts to thrash out the broad contours of a new development paradigm premised on the recommendations of the mid-term appraisal of the 10th Five Year plan.

Hindustan-Tibet road washed away at several places
June 28, 2005

Left's jolt to UPA
June 27, 2005
Digvijay gets charge of poll-bound Bihar
June 26, 2005
Nine jawans killed, 19 hurt in Srinagar blast
June 25, 2005
Punjab reels under power cuts
June 24, 2005
APHC seeks dialogue with Centre
June 23, 2005
19 Gujarati tourists killed
June 22, 2005
Petrol, diesel costlier
June 21, 2005
Anil Ambani enterprises in power
June 20, 2005
Ambanis reach accord
June 19, 2005