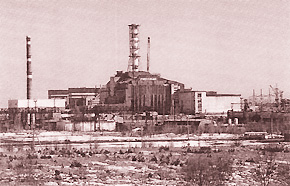 On April 26, 1986, a severe nuclear accident occurred at the Chernobyl nuclear power station. Now we must have a re-assessment of the impact of the accident objectively, dispassionately and scientifically. The accident had enormous psychological impact primarily because of large scale evacuation of population from the affected areas.

Relying on a UN report, Anthony Browne wrote that the biggest damage to the health of the population came from hypochondria and well-meaning but misguided attempts to help people (The Observer, 2002). Patrick Gray, the main author of the report, asserted that this interpretation is wholly misleading.
On April 26, 2005, the United Nations Development Programme (UNDP) reported that the residents in the affected areas still lack the information needed to lead healthy and productive lives. "Misconceptions and myths about radiation prevail, promoting a paralysing fatalism among residents about their own health".
In spite of concerted efforts by international organisations, and the mass media over the past 19 years, residents are confused about the impact of radiation on their health and surroundings. They tend to attribute a wide variety of medical complaints to Chernobyl; but neglect the role of personal behaviour in reducing risk and maintaining health. The agency noted that this applies not only to radiation risks, which are actually quite low, but also to areas in which personal behaviour is decisive, such as, diet and misuse of alcohol and tobacco.
Immediately after the accident, media reports reflected universal public hysteria Dr Roger Bate, visiting fellow of the American Enterprise Institute, noted that the Daily Mail filled half its front page with the words "2000 DEAD". "The New York Post claimed that 15,000 bodies had been bulldozed into nuclear waste pits" he wrote in the National review online. Broadcasting agencies, newspapers and the Ukrainian Ministry of Health quoted death tolls varying from 15,000 to 125,000.
The United Nations Scientific Committee on the Effects of Atomic radiation (UNSCEAR), the specialist agency set up in 1955 by the United Nations to evaluate sources and effects of ionising radiation reported that 31 power plant employees and firemen died within a few days or weeks. Of these, 28 deaths were due to acute radiation exposure.
Additionally, as on 1998, 11 out of the 134 members of the reactor staff and emergency workers who showed signs of acute radiation sickness died due to many reasons. The number of deaths was small in comparison with other industrial catastrophes.
Except some increase in thyroid cancers among children, UNSCEAR did not find any evidence of increase in overall cancer incidence or mortality or non-cancerous diseases attributable to radiation exposures.
Dr Zbigniew Jaworowski, former Chairman, UNSCEAR, found that the pattern of increase in thyroid cancers "was not in agreement with what we know about radiation-induced thyroid cancers". He cautioned that the increase in incidence should be viewed against the presence of occult cancers ranging from 5 per cent to 35 per cent among populations in many countries. These do not present adverse clinical effects. Over-enthusiastic screening must have led to the discovery of some occult cancers.
There has been no statistical increase in deformities in babies. Dr Bate reported that the exhibitions of photographs of deformed victims, which raised millions of dollars for pressure groups and charities, have been exposed as fraudulent.
The risk of leukemia does not appear to be elevated, not even among the workers engaged in the recovery operations. The jury is still out on this issue.
The accident at Chernobyl served as a wake up call for the nuclear community. They started paying more attention to emergency planning measures. Radio-phobia caused incalculable psychological damage.
— Dr K.S. Parthasarathy is a former Secretary of the Atomic Energy
Regulatory Board