ART & LITERATURE

'ART & SOUL
ENTERTAINMENT

TELEVISION

GARDEN LIFE

NATURE

FOOD TALK

CONSUMER RIGHTS

HOLLYWOOD HUES

BRIDGE

ULTA-PULTA
INTERACTIVE FEATURE

CAPTION CONTEST
EARLIER FEATURE

TRAVEL

RELATIONSHIPS

DREAM THEME

TIME OFF

Glorious retreat
Dhruv Ashiana in Dalhousie, Army's first rest, recreation and refit centre for its men deployed in Jammu and Kashmir, has been a success. Vijay Mohan reports
| | |
| --- | --- |
| NESTLED in the cool climes atop the outer slopes of the mighty Dhauladhars at Dalhousie, the Army's Rest and Refit Centre is a unique institution meant for giving a much-needed break to soldiers deployed in counter-terrorist operations in Jammu and Kashmir. Operating on the lines of a resort, where soldiers can bring their families and enjoy just about every kind of recreational facility on the house, the R&R Centre aims to provide troops deployed in high-risk areas a respite from the stressful routine. | Three-star comfort: Dhruv Ashiana |
Charm of Chhuk-Chhuk
The Railways are one of the rare happy outcomes of colonial history. Rajmeet Singh, on a visit to Rewari, comes across our steam heritage
A modern poet recalls the nostalgia of the steam engine of old by saying, Every good fella out there has a rail, That goes to his mother's home, Blowing smoke and whistling away. True, trains no longer blow smoke or whistle as they once used to but there are many who like to relive the old charm of the chhuk-chhuk locomotives.


long shot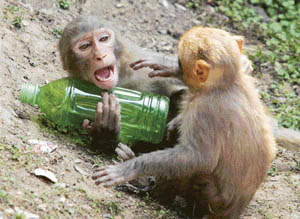 MONKEY BUSINESS: Two monkeys fight for a bottle of drink left by a visitor at a zoo in Hangzhou, east China's Zhejiang province. While 22 provinces in south and east China are suffering from heavy flooding, other areas have been struck by heatwaves and drought. — Reuters
Memorial to the great sage
K.R.N. Swamy on the ancestral house of Swami Vivekananda in Calcutta. His 103rd death anniversary falls on July 4
OF the hundreds of eminent Indians Calcutta nurtured in the past two centuries, perhaps it is most proud of Swami Vivekananda and Rabindranath Tagore.
The rip-offs are here
Adapting Hollywood hits to Indian tastes and sensibilities to rake in the moolah is considered a safe bet by Hindi filmmakers
IT'S hard to believe, but this week's unfunny comedy, Bachke Rehna Re Baba, is actually a remake of David Mirkin's hilarious Heartbreakers with Rekha and Mallika Sherawat altering the original mother-daughter pair into an aunt-niece one.
In love with India
Aakriti Sinha on Meera, Pakistan's Aishwarya Rai, her dreams and aspirations
MORE than her films Meera is famous for her big mouth, er, unlike Mallika Sherawat. Her popularity tag shoots high, just because she is from Pakistan. Her statements keep changing now and then. Precisely, she's a treat for the media (on both the sides).
Another movie on Gandhi
RECENT events suggest Indian history is back in fashion. Actor Anil Kapoor is making a film on the controversial relationship between Mahatma Gandhi and his son Hari Lal. This is no doubt a sensitive subject.
Manna Dey returns
FANS of singing legend Manna Dey will now rejoice. The doyen with the mellifluous voice has decided to return to singing after a hiatus of nearly 20 years. Dey has recently recorded a song for an upcoming Hindi film, Umar, directed by Karan Razdan.